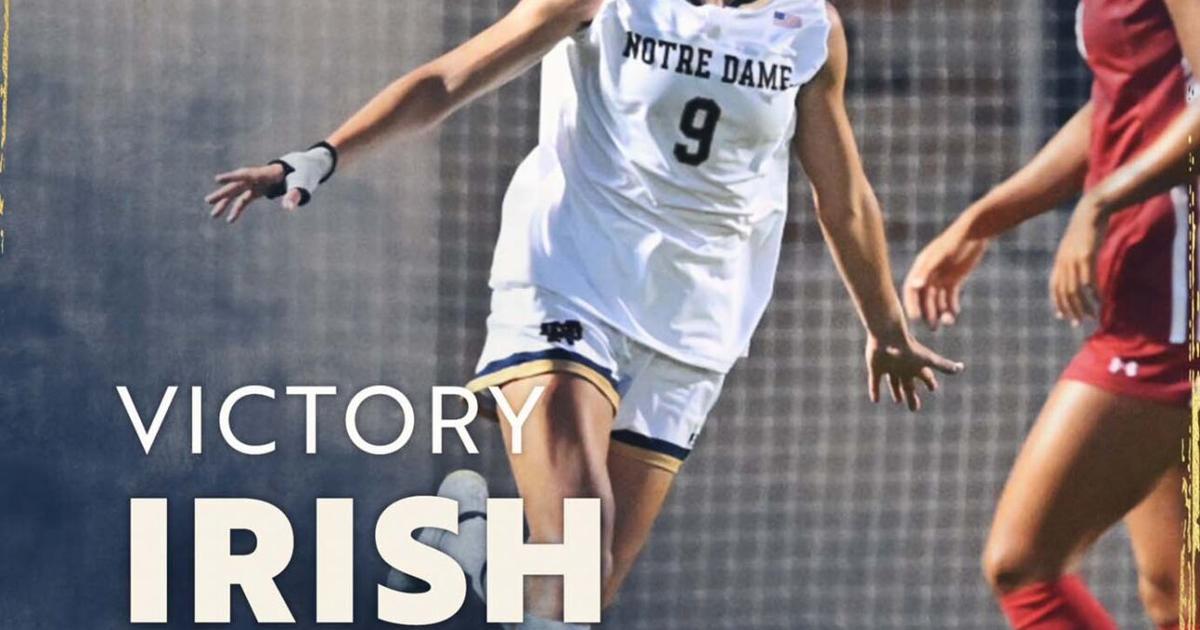 Wilmington College notebook: Wingate Nets hat trick; 71st in ND program history | Sports
Last Thursday night, reigning Female Athlete of the Decade Olivia Wingate helped the Notre Dame Women's Soccer Team (5-0) defeat 22nd Wisconsin (2-1-2) 4-1.
Wingate put on a show in the second half where she recorded her first career hat trick. It was the 71st hat-trick in program history, as Wingate now has a team-best five goals.
In the 62nd minute, Wingate began their attacking dominance. It started with what was the first career assist for Waniya Hudson dropping a ball high for Wingate who brought it down then delivered it wide of the post for the goal.
Then exactly two minutes later on the dot, Van Zanten headed a ball past the Wisconsin defense as Wingate used his speed to go on a breakaway, then hit the goalie.
Same goes for Wingate's third goal in the 86th minute, except this time it was Caroline Gray who headed a back ball past the defense as Wingate ran and put it away.
On Tuesday, Wingate was named ACC Offensive Player of the Week.
Elsewhere, the St. Thomas Aquinas College women's soccer team wrapped up its three-game season-opening road trip, losing to the University of New Haven, 3-0, Saturday night at Kathy Zolad Stadium. . Freshman Kaitlyn Maguire paced the Spartans as she had four scoring chances, including three shots on goal. A defensive back, Maguire has played in all three games so far, registering four shots on goal.
Also, the University of Rhode Island earned its first win of the season on Sunday by beating Vermont 3-2. Junior midfielder Tess O'Connell scored two shots on goal. She has played 30 games so far in her career and is still looking for her first college goal. Last year, she led the entire team in shots with 20.
Additionally, Thea Aliberti is returning for another season at Colby-Sawyer. Last year, the midfielder was named captain. The team is 0-2-1 so far this season… Sophomore Hannah Watson returns to the Stonehill women's team as a defensive midfielder/back. She played one game last year as a freshman… Junior Aly Colantuoni is back with Southern New Hampshire University. As a defensive back, she has appeared in one game so far and recorded one shot on net. Last year, she appeared in three games with two shots on goal… Two other former WHS players, second Tori Gemellaro and rookie Jenna Sweeney are members of the Bridgewater State team. Gemellaro is a keeper yet to see action, and Sweeney has played two games as a defensive midfielder/back… Amber Flynn helped RIT start 2-0. She started in defense in the team's 3-0 win over Kenyon. Last year, as a freshman, she appeared in six games.
Finally, a total of 169 Bentley University student-athletes received 2021-22 Division 2 Athletics Director Association Academic Achievement Awards for their classroom success last school year. Among them was Wilmington resident Dana Goulet.
The 169 winners were the most of any institution in the Northeast-10 Conference and Eastern Region, as well as tied for the 13th-highest total nationally. Putting that into perspective, there are over 300 Division II institutions across the country.
Requirements to receive an academic achievement award include a GPA of 3.5 or higher on a 4.0 scale, completing at least two years of college-level work, and being an active member of a team intercollegiate in the 2021-22 academic year.
MEN'S FOOTBALL
Babak Bakhtiari is a second striker for the Endicott men's football team. Prior to college, he was a star player at Central Catholic High School.
SOCCER
The Curry College football team lost 35-20 to Massachusetts Institute of Technology in its season opener Friday night in non-conference action at Walter M. Katz Field.
MIT scored the only touchdown of the third quarter and again just 38 seconds into the fourth to take a decisive 35-13 advantage, but Curry fought on until the final whistle. At the end of a 12-game practice that sucked eight minutes down, junior Bailey Smith forced and recovered a fumble, knocking him back 87 yards before being dragged just three yards from the end zone, which set up a touchdown to close the gap to 35-20. Smith finished the game with ten tackles, including six solo, out of the defensive back position.
Also on the Curry team but didn't play in the opener is freshman Pedro Germano, who was the WHS team's QB the past two seasons.
Elsewhere, the Merrimack College football team was beaten by Holy Cross, 31-17. Tight End Tyler Roberts had two receptions for 23 yards in the loss. Senior captain, Roberts is coming off a career year with 52 receptions for 538 yards and six touchdowns… Tyler's brother, Shane Roberts, is a sophomore at Nichols College and he had six tackles in the thrilling 30-29 victory of the team against Westfield State on Friday. .
Elsewhere, freshman Jake Chirichiello is a member of Franklin Pierce's team, which opened the season Saturday with a 10-7 loss to Edinboro… Dean Nally is back at Bentley University, who dropped out the season opener at West Chester, 17-16. A junior, Nally appeared in six games last year… Christian Robarge is back at Western New England and Dustin Burkle, a Wilmington resident who played at Woburn High, is a senior at Bridgewater. Running back, he did not play the team's first game… Finally, Chris Walsh is back at the University of Albany as a lineman.
WOMEN'S TENNIS
Former Town Crier Female Athlete of the Year, Emily Hill, is back with the Colby-Sawyer women's tennis team. On Saturday, in the team's season opener, playing third place singles, she was beaten by Ashley Keaveney of Endicott in straight sets, 6-3, 6-3.
Last year, as a junior transfer from Johnson and Wales, Hill ranked No. 2 in singles for the Chargers in addition to being No. 1 in doubles. She finished the season 12-4 in singles with an 11-2 record in second place, while finishing 12-8 in doubles. Hill finished a perfect 8-0 match in GNAC with a 4-0 record in singles and doubles.
FIELD HOCKEY
Graduate student Jillian Miele, a reigning All-American selection, scored a goal to help Johnson & Wales defeat Salve Regina, 3-0, and move to 2-0 in the young season. The goal came after the team's 2-1 season-opening win over Eastern Connecticut University. In that win, Miele scored the game-winning goal early in the second quarter.
Last year, Miele set the program record for most points at 146, and also set single-season program records for most goals (26), assists (14) and points. (66). She was named GNAC Offensive Player of the Year, was awarded to the All-GNAC First Team, and was selected to both the Division 3 All-Region First Team and the National Division 3 Senior Team. .
She also holds the record for most points in a career at WHS.
Elsewhere, junior Jocelyn White is a goalkeeper for the Regis College team. She didn't play in the team's season-opening loss this week, but last year she appeared in all 13 games, playing every second. She finished with 104 saves and a 3.92 GAA.
VOLLEYBALL
Worcester State Volleyball fell to Roger Williams 3-0 (25-22, 25-21, 25-19) and Brandeis 3-0 (25-17, 25-17, 25-15) in a tri-match held this past weekend. Maeve Cadogan played in three of the sets and recorded an ace, as well as two blocks. A junior intermediate blocker, she played in 27 games last year as a sophomore and finished with 93 kills.
CROSS COUNTRY
Sean Riley is a member of the UMass-Lowell men's team, Patrick O'Mahony dresses at Bryant University and on the women's side, Shea Cushing is a member of UVM.