Who will win the battle for padel domination?
Padel's growing popularity has seen the sport attract major investment and new commercial attention. However, its splintered nature sparked a civil war between rival tours, players, a government-funded investment vehicle and even a brand of beer.
With the winners in pole position to capitalize on the growing appeal of the sport, SportsPro presents an overview of the situation in the battle for padel supremacy.
What is padel?
Designed in Mexico in 1969, it is essentially a hybrid of tennis and squash that is usually played in doubles on an enclosed court. The score is the same as traditional tennis, although the court is about 25% smaller. Balls can be played outside the walls of the pitch – like squash – and solid, stringless bats are used rather than rackets. Don't confuse it with paddle tennis – better known today as Pop Tennis – found primarily in the United States and Canada.
🍿 ¡Siéntate y disfruta!

🥳 #WorldPadelShow 🥳 | #WPTReusOpen✨ pic.twitter.com/SvsB0vzopB

– World Padel Tour (@WorldPadelTour) March 19, 2022
---
Is it popular?
Padel has been adopted in Spain and other Spanish-speaking countries, including Argentina and Chile. Since then, more and more countries in Europe and the Middle East are playing it, including France, Italy, Qatar, and the United Arab Emirates (UAE). Courts can also be found in the United States, as well as in Asian countries such as China, Japan, Singapore, Thailand and India.
At the competitive level, the Padel Pro Tour was initially created in 2005. Today, the best known circuit is the World Padel Tour (WPT) – we will come back to this later.
The padel has aroused the interest of several sports personalities. Liverpool manager Jurgen Klopp has set up courts at the club's training ground, while Lionel Messi, Mohamed Salah, David Beckham and Rafael Nadal are also said to be big fans.
According to the International Padel Federation (FIP), the sport is one of the most dynamic in the world and has more than 25 million players, a figure that has doubled in the last five years. The global governing body adds that participation is evenly split between men and women, spanning all ages and backgrounds. The organization also claims that padel is second only to football in terms of popularity in "several territories".
Additionally, the sport's growing momentum has seen FIP push for inclusion in the Olympic Games Los Angeles 2028.
First Padel investor Qatar Sports Investment and its president Nasser Al-Khelaifi already control Paris Saint-Germain
Who supports him?
Several sports stars have invested in the sport. Swedish soccer ace Zlatan Ibrahimovic has set up his own padel facility as part of efforts to establish the game in his home country. France's FIFA World Cup winner Zinedine Zidane also has his own padel courts for players. Last August, British tennis icon Andy Murray participated in a £1.3 million ($1.7 million) funding round for Edinburgh-based Game4Padel, which wants to develop a network of facilities UK-wide game.
Beyond that, this is where things get a little complicated. Until this year, the WPT was firmly established as the sport's biggest draw and had the best players under its auspices. However, the WPT, which is run by Spanish beer company Estrella Damm, is not officially regulated by the FIP, much to the organization's frustration.
An almighty shakeup came in February this year when Qatar Sports Investments (QSI), best known as the owner of French soccer giants Paris Saint-Germain (PSG), came on board as an investor in the PIF.
On the same day, the WPT announced that Spanish media agency Mediapro had acquired the media rights to the tour as part of a multi-year deal. The circuit has also asked the agency to bolster its international expansion as it continues its 2022 season, which kicked off in February and is expected to feature 24 events in 13 countries.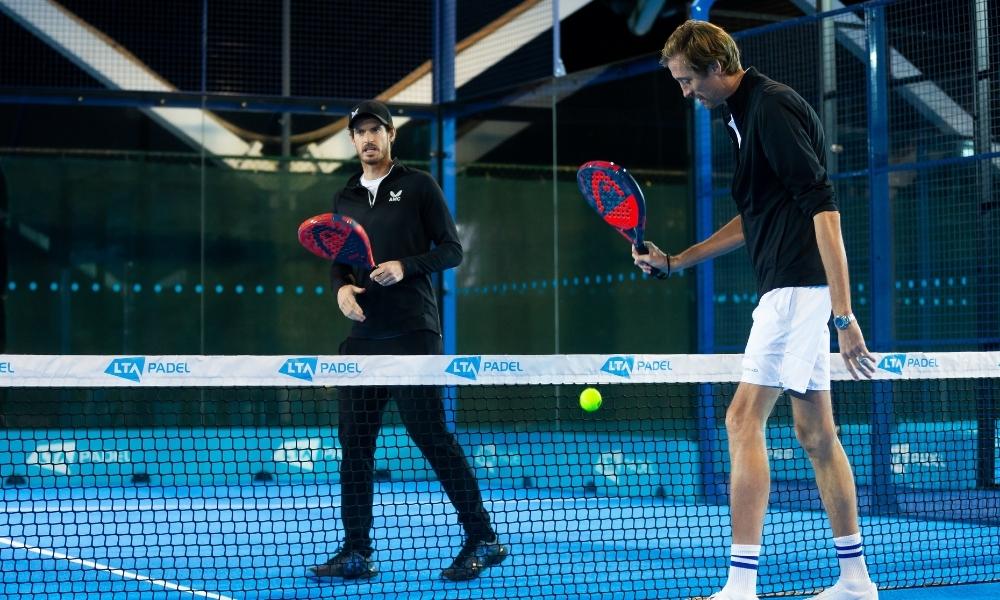 British tennis star Andy Murray has invested in padel, while former Premier League striker Peter Crouch is also a fan
What does all this mean?
The resources of QSI, whose president Nasser Al-Khelaifi is an avid supporter of padel, have enabled the FIP to create a new world tour. Officially called Premier Padel, at least ten tournaments are scheduled for each of 2022 and 2023, growing to more than 25 per year by 2024. The tour's inaugural major event was held in Doha from 28and march to 2n/a Avril with a prize pool of €525,000 (US$579,000), which according to the FIP is a record for a padel tournament.
In light of QSI's involvement, the battle lines have been clearly drawn. The FIP has made no secret of its desire to see Premier Padel replace the WPT as the sport's preeminent competition. The gloves are off, with the WPT accused of tying players to its private tour, which critics have described as a closed league that pays paltry sums to athletes and is more interested in marketing beer.
A potential stumbling block for Premier Padel is the challenge of releasing more of the sport's elite from their contracts with the WPT. As a result, FIP and the Association of Professional Padel Players (PPA) jointly filed a complaint with the European Commission in February.
The pair accused the WPT and Estrella Damm of breaching European Union (EU) competition law by tying players to "unlawful exclusive contracts", preventing participation in other tournaments, in n 'offering 'no decision-making power' and threatening 'enormous fines, litigation and penalties'. FIP and PPA want interim measures taken – the strongest possible legal action in this situation. cartel case against the accused is also being considered.
Who is likely to win?
At this stage, it is still too early to say. The outcome of FIP and PPA's complaint to the European Commission will go a long way in deciding the future direction of the sport. Regardless of how this case plays out, the FIP has crucial support from the players, which means that even if the WPT is initially able to keep them under contract, further legal wrangling is likely.
Factor in the financial might of QSI and Estrella owner SA Damm and it could very well turn into a war of attrition.