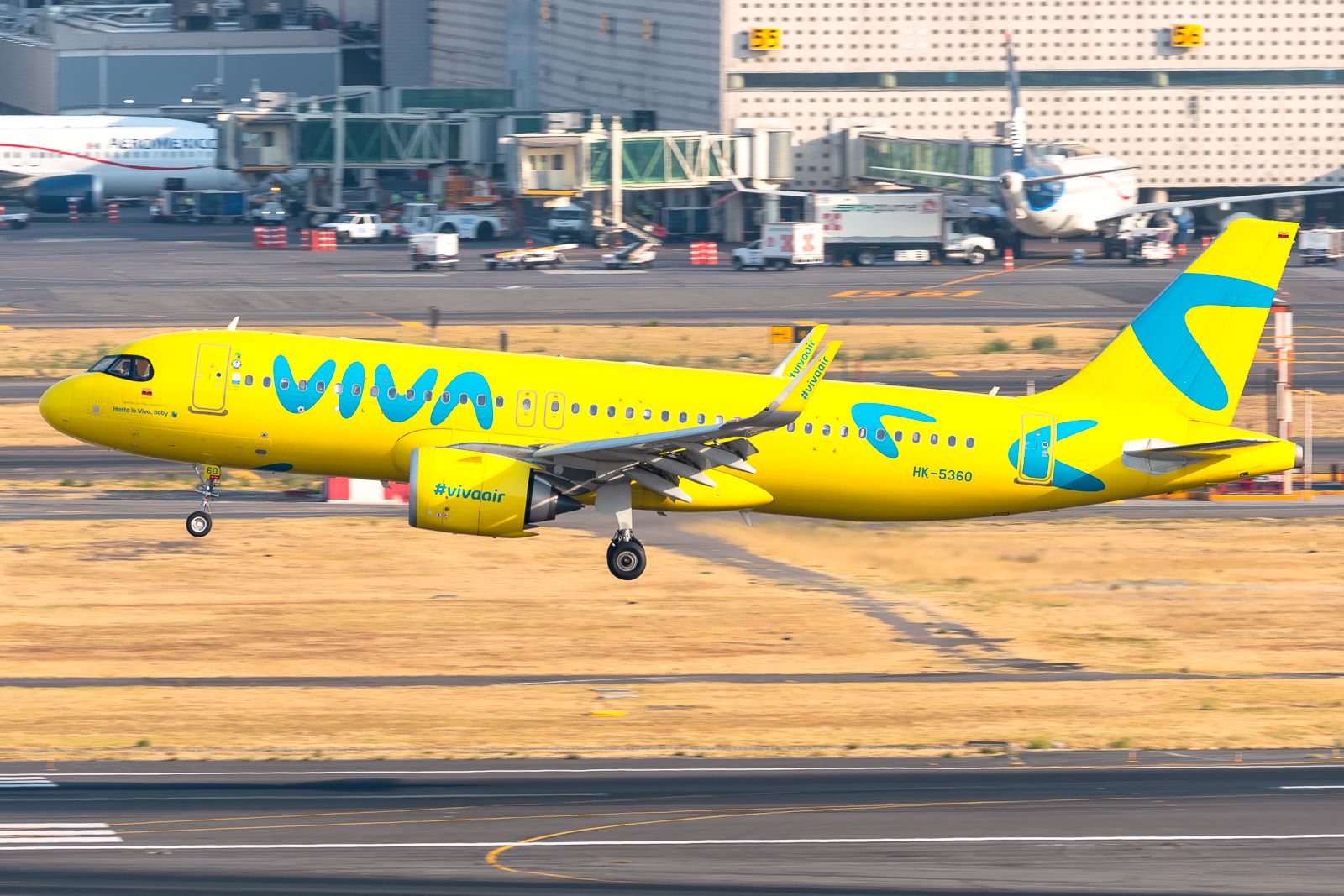 Viva Colombia strengthens international connectivity to Argentina, Brazil and Mexico
Colombian ultra-low-cost carrier Viva has announced increased weekly connectivity on routes to Argentina, Brazil and Mexico. Some of these routes were inaugurated less than a month ago, and the airline has confidence in them. Let's investigate further.
Viva's new routes
After a month of operating Viva's new routes to Buenos Aires Ezeiza International Airport (EZE) and São Paulo Guarulhos International Airport (GRU), the company announced an increase in weekly flights in October.
Viva will operate five weekly flights to Buenos Aires from Medellín and Bogotá and will operate four weekly services to São Paulo from Medellín.
Pablo Madriñán, Commercial Vice President of Viva, said:
"It has been less than a month since we launched our direct connectivity from Colombia to Argentina and Brazil with a super low-cost, and we have already seen great acceptance of these routes by our travelers. Therefore, we are increasing the number of weekly frequencies by October to these destinations, allowing more passengers to travel, paying only what they need.
Currently, Viva operates four flights to Buenos Aires from Bogotá and Medellín, respectively, and three to São Paulo.
Viva will increase its weekly connectivity on routes to Argentina, Brazil and Mexico. Photo: Guillermo Quiroz Martínez via @gquimar.
Added services in Mexico
But that's not all. The Colombian ultra-low-cost carrier will also add new services to Cancun International Airport (CUN) from Medellín. By September, the airline will operate ten weekly flights, becoming Viva's most important international route.
Pablo Madriñán added,
"Furthermore, in line with our strategy to connect the country (Colombia) to Mexico, we will have up to ten weekly flights to Cancún from our hub in Medellín by September. We are committed to following our expansion strategy to add new destinations to our Viva map route.
Viva's current international connectivity
Viva Colombia has greatly increased its international connectivity during the pandemic. Prior to 2020, the airline had only a few international flights to destinations such as Lima (Peru) and Miami (USA).
Over the past two and a half years, Viva has added new destinations, anchoring its growth in the Medellín Hub strategy, which aims to transform Medellín International Airport (MDE) into a connectivity hub, similar to the one that Copa Airlines operates in Panama. Tocumen International Airport (PTY). The main difference is that Viva is a low-cost operator.
As of July 2022, Viva Colombia operates 57 weekly international flights on 13 routes serving destinations in the United States, Mexico, Dominican Republic, Peru, Brazil and Argentina. Here are the lines currently operated by Viva:
Bogota-Buenos Aires, four weekly flights
Bogota-Lima, a weekly flight
Bogota-Mexico City, a daily flight
Cali-Cancun, three weekly flights
Cartagena-Mexico City, two weekly flights
Medellin-Cancun, eight weekly flights
Medellin-Buenos Aires, four weekly flights
Medellin-Sao Paulo, three weekly flights
Medellín-Lima, four weekly flights
Medellín-Orlando, two weekly flights
Medellín-Mexico City, one daily flight
Medellín-Miami, a daily flight
Medellín-Punta Cana, five weekly flights.
Overall, Mexico became Viva's main international destination. The airline operates 27 weekly flights to this country from four different cities.
Viva has a fleet of 21 aircraft in Colombia and two in Peru. It has 11 Airbus A320s and 12 Airbus A320neos.
Have you ever been on a Viva flight? How was the experience? Let us know in the comments below.