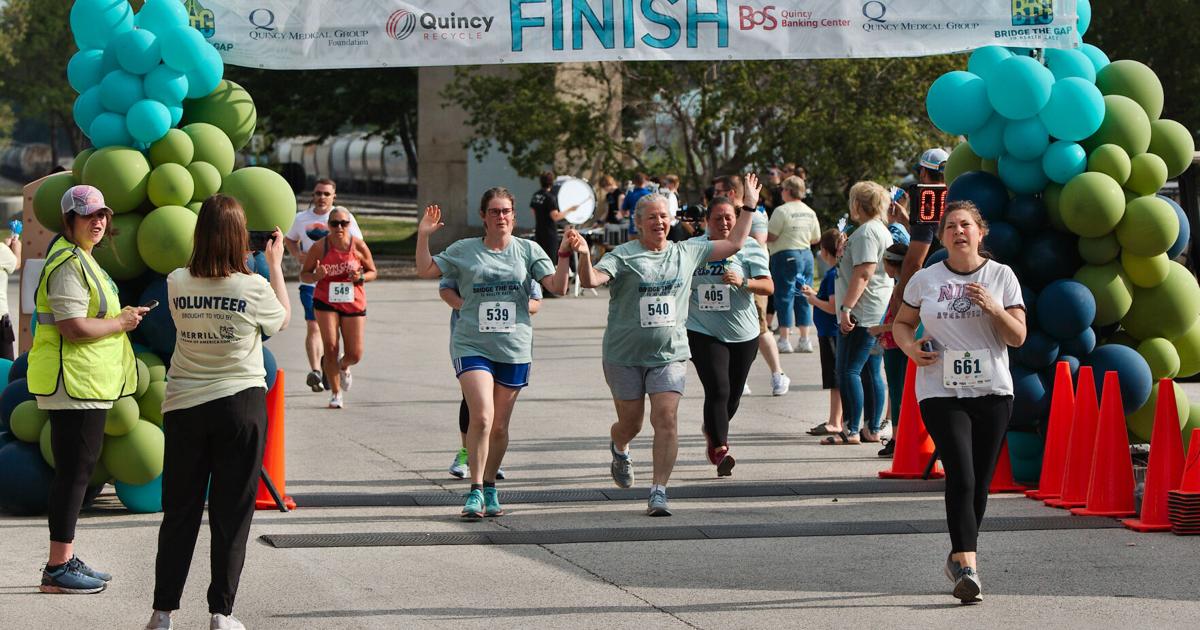 The sun is shining on the 2022 Bridge the Gap to Health race | Community News
QUINCY — After a week of scorching days, the weather for Saturday morning's 22nd Bridge the Gap to Health race was everything organizers could have asked for.
Quincy Medical Group community relations manager Morgan Parker said the weather seemed to have helped turnout for the event.
"A lot of people came early this morning to sign up," she said. "It's been absolutely amazing, and I've had nothing but great feedback so far."
Parker spoke on the phone while she was still on the race course herself.
"There were just big smiles on faces here today," she said.
For the second year, the Bridge the Gap Race was without the iconic bridge crossings over the Mississippi River. Construction on the Quincy Memorial Bridge results in two-way traffic on the Bayview Bridge, eliminating both options.
In another change for 2022, the recipient of the fundraising event has changed from Quincy Catholic Charities' MedAssist program to the YWCA's supportive housing program. YWCA chief executive Maria Rench said the need for help for homeless people was growing.
"All proceeds go back and go directly back into the community," Rench said. "Homelessness is a big problem, and it's only growing. With the help of this event, we'll be able to help even more people."
Rench said the funds raised through the race will not only be used to meet the direct housing needs of the homeless.
"When you're homeless, if you have a disability, for example, you can't get any medical care you might need, even prescriptions," she said. "So we help them with housing, but also with medication, transport to appointments, everything we can do to help them get up."
Gary Hackmann crossed the finish line first in the half marathon race on Saturday morning. He said he had run most Bridge the Gap races over the years.
"They still have great charities they support," he said. It was Catholic Charities MedAssist, now with the YWCA, if you can run a race to help support the community, that's the best thing you can do."
"Hopefully next year we'll have the bridges back," Hackmann continued. "It's really the only opportunity you might have to do it. So whether you run or walk, it doesn't matter. It's for a good cause, and it's just for fun."
Parker expressed his gratitude to everyone who came, from runners to medical personnel.
"I just want to thank the participants, the volunteers, the staff, everyone for coming and coming together for such a great cause," she said.