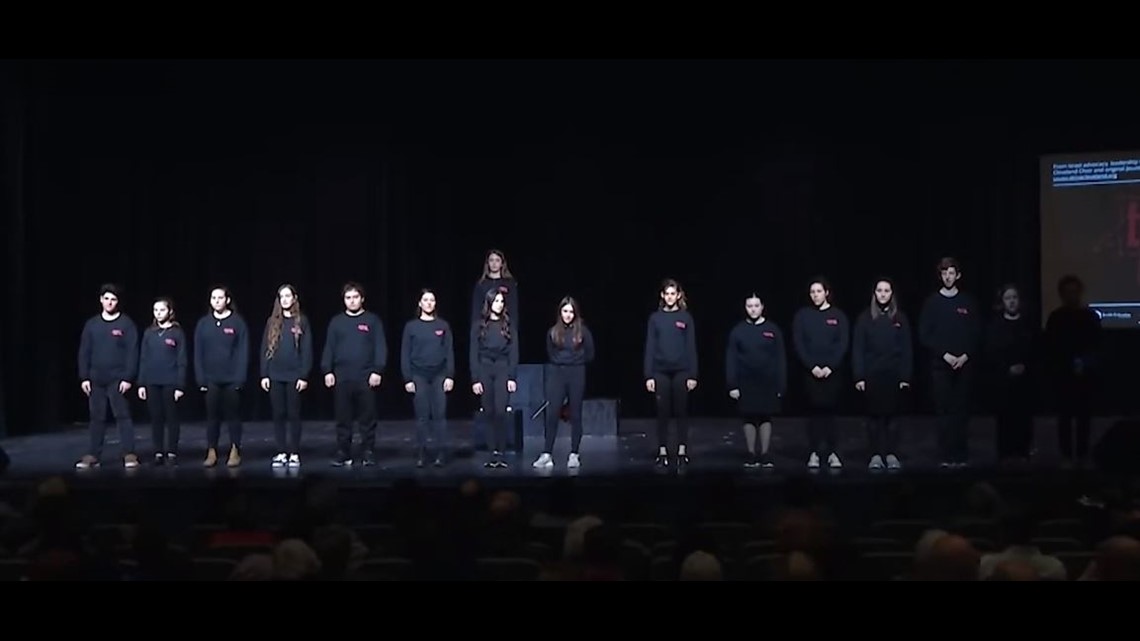 Testimony Theater connects teens with Holocaust survivors
The program aims to approach teaching about the Holocaust in an impactful way for students and the public.
CLEVELAND – Through connection, interviews and performances, the stories of those who lived through the Holocaust are remembered and shared.
Testimony Theater is a program that connects Cleveland teens with Holocaust survivors and their families. Students in grades 7 through 12 interview their subjects, then create and perform vignettes based on their experiences. The children then reflect on these stories, find creative ways to illustrate their impact, and organize interactions with their audience to answer questions.
For Sheri Gross, director of the Theater of Testimony program, Holocaust education is personal. Growing up in Rochester, New York, Gross recalled Yom HaShoah remembrance ceremonies where Holocaust survivors gathered in their concentration camp uniforms.
"When I was growing up, the Holocaust happened like 30 years ago," she said. "It was our recent Jewish history, our recent world history, so exposure to survivors was normal."
These days, Gross said she's discovered that parents can "think differently about the kind of exposure they want their child to have to painful situations," and said some kids can be "out there." 'shelter' from certain truths and realities that she grew up with. more exposure to. For her, this is where Testimony Theater can make an impact.
"Our students, our children are our bridge builders," she explained. "They are our leaders, they are our changemakers, they are our advocates. They are the ones we rely on to be able to tell these stories and ensure that the Holocaust never happens again, and they are not going to be able to. do so until they have the right kind of impact.
"It's programs like this that can expose them and help them internalize and say, 'This is something I'm passionate about. I want to move forward and make sure my community gets it, my world gets it. ""
Amnon Ophir is a director at @akiva, which provides opportunities for Cleveland teens to learn about and strengthen their Jewish identity. Testimonial Theater is produced by @akiva.
Ophir said he brought the concept of the Testimony Theater from Israel and adapted it for Cleveland. Now he hopes more schools have these types of programs.
"Holocaust education for a lot of teenagers is one day a year on Yom HaShoah," he said, "and I think they need to do more."
Maya Greller, 16, who lives in Ohio, also sees the importance of teaching about the Holocaust.
:Doing something like Testimony Theater – which takes a very, very heavy subject matter and makes it more laid back and makes it a little bit easier to digest – it does a really good job of somehow bringing it to an audience that doesn't hear about day to day," Greller said.
Gross adds that Testimony Theater is even more personal for participants this year, as all of the stories they tell have connections to the students involved. Avigail Botnik, 18, is an Israeli gap year student in the United States, and says that growing up in Israel, the subject of the Holocaust "surrounded" her openly.
His grandfather was a Holocaust survivor; now she participates in the Testimony Theater.
"By playing you can actually show emotions and not just the story on paper," Botnik said. "That's how people can really understand the story better so they can share it later. If someone shared my grandfather's story as a story about [a] Holocaust survivor he knows, I did what I had to do."
Although the subject matter and stories shared can be graphic, Gross believes the students showed maturity and compassion in learning and interpreting them.
"I want them to understand what these survivors have been through, what is the impact of surviving situations like the Holocaust – how it can impact a family and generations, and what led to the Holocaust and what to look for and how to be honest," Gross told 3News. "How to be proud of who they are and how to feel good about the change they want to make."
The importance of these stories and ensuring they are shared and passed on is not lost on Greller.
"Survivors, they come to the end of their rope," she said. "In the next 10 to 15 years, who knows how many will still be around? But as long as we keep telling their stories, they'll never really die."
Testimony Theater will perform at 7 p.m. on Tuesday, May 17 at Gross Schechter Day School and is free and open to the community. Although so far the program has only had Jewish students in their casts, they hope that students from all walks of life will join them. Ophir also said that if other educators want to bring the program to their school, they can contact him at [email protected]