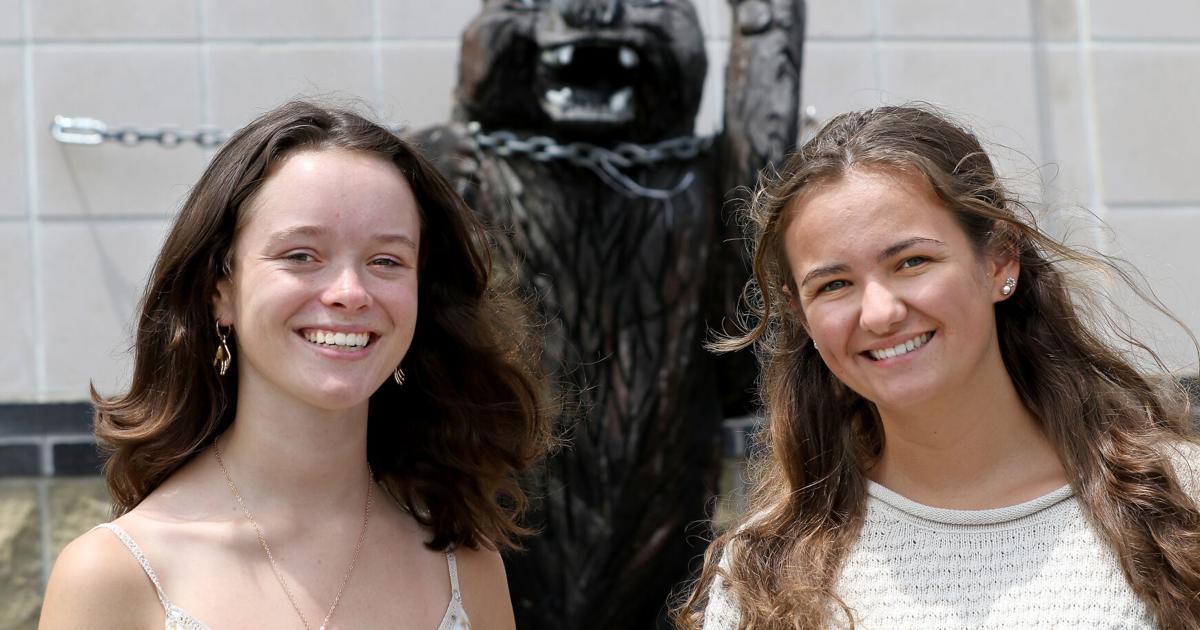 SHS Class of 2022 valedictorian and salutatorian hope to 'change the world' | Daily news alerts
STONINGTON — During their high school careers, valedictorian Katherine Glenn and salutatorian Sophia Gabrielle Fernholz saw drastic changes in the world.
The top students in the Stonington High School class of 2022 have witnessed the closure of communities by the COVID-19 pandemic, a country divided by politics and social struggles, and international conflicts that have claimed millions of dead, displaced or starving. They've seen schools and towns cry after deadly mass shootings and seen adults arguing over the best way to move forward.
If the experience has taught Glenn and Fernholz anything, it's to always remember to enjoy life and take things as they come. But the two said they were focused on finding a way forward that would allow them to make a difference and help people in a positive way.
"I toyed with the idea of ​​law school, but I also want to get into sustainability," Fernholz said of his future. "Whether it's focusing on climate change or world hunger, I want to be able to do something that will make a difference and change the world."
If they are able to make half the difference they made in promoting inclusion, diversity, and acceptance during their time at Stonington High School, neither should have a problem. achieve its goals, Principal Mark Friese said Thursday.
Friese said while neither had what could be considered a "normal experience" after EEA-restricted activities and COVID-19 brought in-person learning to a screeching halt. their second year, it didn't slow them down either – both were instrumental in being leaders by example.
"The resilience and perseverance that everyone has shown has been remarkable," he said. "With all the challenges, they forged their own path and showed they have what it takes to succeed."
Valedictorian Katherine Glenn
At 18, Glenn is a gifted student-athlete with a wide range of activities and interests that keep her constantly on the move. In addition to earning top marks, the class of 2022 is second vice president of student government, a two-year co-chair of the student government service committee, vice president of the school's chapter of the National Honor Society and a student representative in the Student Diversity, Equity and Inclusion program.
A member of the lacrosse team throughout his high school career and a two-year member of the indoor soccer and track teams, Glenn shifted his focus when the pandemic began and began to focus his energy more on volunteering. She has since served with her grandfather and one of her main influences, William Schmidt, as the two work regularly at the New London Community Meal Centre.
Glenn is also employed at the Water Street Cafe and has held several other odd jobs in the community.
With such a busy schedule, it was easy for the staff at Stonington High to cheat on her. Called to the office, she came with all the school administrators to the room and said she had a sinking feeling in her stomach. She thought she was in trouble.
"I was afraid that I had been away too much or something. I kept thinking, 'That's it, I'm going to have to repeat my last year,'" she said.
Nothing could be further from the truth, the staff said, and Friese said with a laugh that she certainly more than made up for any missed work.
The younger of two children born to John Glenn and Stephanie Schmidt, Katherine Glenn spent her elementary years between area schools, attending Wheeler Elementary School in North Stonington and St. Joseph's in New London before completing her early years at Deans Mill School.
After graduating, Glenn will attend Northeastern University in Boston where she plans to major in political science and journalism with a minor in Spanish. She said she also plans to travel.
Glenn has already been approved for a semester abroad at the New College of the Humanities in London and said she hopes her mother will visit her so the two can travel to Spain and France.
"I really want to be able to experience the different cultures and see what's there," she said.
Beyond next year, Glenn said she is happy to take life as it comes and hopes to one day become a writer who can make a difference by focusing on coverage of issues such as gun control. to fire and its impact on public schools, social issues related to race and class, and many more.
"I want to give a voice to those who need it," she said.
Salutatorian Sophia Gabrielle Fernholz
Fernholz will celebrate her graduation before her 18th birthday, but while the United States may not yet consider her an adult, she has already managed to accomplish more than some might claim in a year. Entire life.
Daughter of Peter F. Fernholz and Danielle Pereira, and daughter-in-law of John Pereira, the 17-year-old Class of 2022 president has a whirlwind schedule that includes commitments to sports teams, active participation in student leadership roles , work in several volunteer positions and more.
While at Stonington High, she participated in the school's basketball and field hockey teams for four years, including as captain of each, served as first vice president of student government, and worked in an influential internship with lawyer Nicholas Kepple at Suisman Shapiro in New London.
However, these are not the activities that Fernholz is most proud of. Instead, she said her biggest accomplishment has been the volunteer work her time with the school district has allowed her to be a part of over the years.
"What I found most rewarding was the opportunity to help make a difference," she said of her high school experience. "If I have one piece of advice for freshmen, it would be to stay compassionate and put that compassion into everything you do."
President for two years of the school's Interact club and member of the French Honor Society, she is no stranger to volunteering. Fernholz is involved in projects such as Chikumbuso and the Mystic Rotary Club's Ghana Reforestation Project, as well as volunteering with the World Central Kitchen and Operation HELO (Home Education Love and Opportunity) Haiti.
Coming from a family with a strong background in science, technology, engineering and math, or STEM, including two parents who went to Worcester Polytechnic Institute, she said she was initially forced to follow a similar path. She will attend Georgetown University in the nation's capital this fall, where she will study science, technology and international business with a minor in French at the Walsh School of Foreign Services.
Fernholz credited her mother as her biggest inspiration, saying she taught her both to be a leader and to stand firm when needed.
"My mom was a single mom of two who worked multiple jobs and long hours so my brother and I could have a good life," she said. "She showed me what it meant to be a strong, fierce, independent woman, and that's what I aspire to."
No matter what life after high school brings, Fernholz said she stays focused on the goal at hand.
"I want to make a big difference," she said.