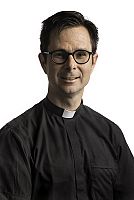 Pastor assignments take effect August 3: Fr. Samuel Dinsdale
Friday, Jul 15, 2022
Prof. Samuel Dinsdale grew up in the Ogden area, where he attended St. Joseph's Catholic Schools, then went to Utah State University, where he earned a dual bachelor's degree in liberal arts and in general trade. He then entered St. Patrick's Seminary in Menlo Park, California, where he earned a bachelor's degree in sacred theology and a master's degree in theology. He was ordained a priest on May 29, 2003 by Bishop George H. Niederauer, eighth bishop of Salt Lake City.
Pr. Dinsdale served in several parishes in the diocese: St. Therese of the Child Jesus in Midvale, St. John Bosco in Delta and its missions, St. Mary of the Assumption in Park City, St. Patrick in Salt Lake City, St. Marguerite in Tooele and more recently at the Blessed Sacrament in Sandy. He also served a three-year term on that journal's advisory board and two terms as chairman of the diocesan liturgical commission. On August 3, he will begin his new assignment as pastor of the parish and of the Saint-Vincent de Paul school.
What would you like your new parishioners to know about you?
I prefer to be called P. Sam. I have lived or been connected to Utah since I was 5 years old. I entered seminary when I was 23 in Menlo Park, California, at St. Patrick School of Theology. I was ordained for the Diocese of Salt Lake City at the age of 29. I have been a priest for 19 years. Saint-Vincent will be my sixth parish and my fourth parish as pastor.
My last assignment at the Blessed Sacrament was difficult in the sense that the last part of my assignment was taken over by COVID. As a parish, we have understood how to be Church during the great pandemic. We followed the ever-changing prohibitions and did our best to continue to serve those who still wanted to be connected to the Church.
What do you expect the most from your new mission?
I am encouraged by the many good and conscientious parishioners whom I have had the privilege of meeting and ministering to in the parishes, hospitals, convalescent homes, jails and jails where I have served. I look forward to ministering with the very competent and good staff of Saint Vincent who have a great sense of service and their own vocation. Pr. Norman became the principal of St. Joseph High when I was a sophomore there. I am honored to follow him as the next pastor of Saint Vincent. I look forward to sharing a presbytery with Msgr. Mannion. The last time I lived with another priest was when I was assigned to St. Mary of the Assumption in Park City as vicar parochial for two years and lodged with Msgr. Bob Bussen, P. Jim Flynn and Bennie the dog.
As a priest, what has been your greatest challenge?
For me, there is no hardest experience, because all the missions were difficult in different ways. When I try to minister in Spanish, I find it difficult to understand and to be understood. When I was parish priest in a parish with a school, there was the perpetual struggle to pay the bills, get enrollments up and keep the school open. When I minister to people in my parishes, there is great difficulty in reaching them and serving them appropriately because most (over 70%) no longer regularly attend the celebration of the Eucharist. and are no longer linked to the Catholic community. There is the great challenge of being understood, as most now interpret the issues from a liberal or conservative point of view. It is impossible to understand the teaching of the Church with this right/left way of looking at the world. If you talk about the poor or stewardship of the land, then you are seen as left-handed. If you talk about abortion and the sanctity of life, then you are seen as a rigid conservative. People are confused when the Church does not align with a political party or ideology.
As a priest, what has been your most satisfying experience?
My most satisfying experience is celebrating our liturgical year, especially on the quieter days. I like to celebrate the Eucharist with those who love the liturgy and want to participate actively in it.