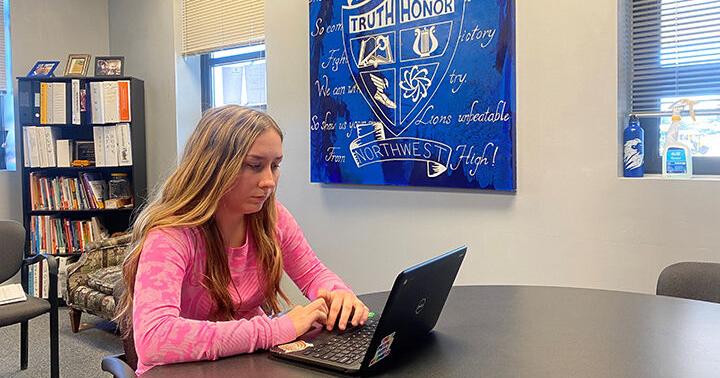 Northwest District Hires High School Students for Hard-to-Fill Positions | Local news
Morgan Follett, senior at Northwest High School, said she looks forward to starting her new job with the Brennan Woods Elementary Lions Care before and after school program.
Follett, 17, of High Ridge is one of 20 students that Northwest School District R-1 recently hired for hard-to-fill jobs.
"Like every other school district in the state, we have struggled to fill positions, especially in our classified areas, like before and after school care or care," said Kim Hawk, director of district operations.
Mark Catalana, district human resources director, said students who work in Lions Care will be paid $ 10.29 an hour and on-call staff will earn $ 9.90 an hour.
Catalana said on Monday that he expects students to start their new jobs this week.
Follett said she was thrilled to be working for the district.
"I thought it would be really amazing to be able to give back to the district that has done so much for me since I was in kindergarten," Follett said. "I applied for child care so that I could influence the next generation of Lions.
Follett said her main reason for applying for the Northwest District position was to earn money for her car insurance and start saving money.
"I would like to save some money so that I can travel for a year off that I'm taking," she said.
Hawk said the district hired the students after hosting a career fair in early November.
Catalana said the district held the career fair to fill nine full-time positions, but because students cannot work full-time, others have been hired to cover all the hours needed by employees.
"We don't want our students to work 40 hours a week, so we are going to divide them up so that they can still focus on their studies and be able to work on it throughout the week," he said. "It's a win-win for both of us. This allows our children to stay in touch with the neighborhood and it allows them to earn money.
It won't be Follett's first job. She previously worked in a daycare, clothing store and pizzeria. She said she looks forward to her new job as it will have a more flexible schedule, which will make it easier to manage work and school.
"Especially with my senior year, I would love to attend as many school activities and functions as possible, just so I can make the most of my senior year in high school," she said. "I think it's going to be really amazing to have people who are so understanding and who don't have to worry about having issues with them, or having fallout from having to miss anything. "
Catalana said students should not be working during major school events or during the activities of sports or clubs in which they may be involved.
"We don't want anyone to miss the homecoming prom. It's important, "said Hawk. "They're going to be done by eight, nine o'clock, so they'll be home in time to finish their homework and get into bed."
Catalana said parents were receptive to their children working for the district.
"I think they like that their kids can stay after school and work here on campus. They feel like it's probably safer and the times are better, "he said.
Catalana said the district will keep tabs on employed students to make sure they maintain their grades.
He said if a student's grades drop, a conversation with the student will be the first step.
Catalana said the idea to hire students came from a brainstorming session on how to fill positions that have been open for several months.
Hawk said she had previously worked with Plato R-5 School District, which hired students for positions, and it was working well.
"We have a lot of good, hard-working kids who are smart, able and knowledgeable and who are kind of an untapped resource," she said. "Then we start to discuss how we could provide an opportunity for the children and also provide the district with excellent young members of the workforce. "
Catalana said filling those jobs was a struggle even before the pandemic.
"I think we were starting to experience the shortage before the pandemic and the pandemic only amplified that, and I can tell you that this has been a problem in the districts of the region as well, not just in the North. West, "he said.
Catalana said the district couldn't always offer competitive pay, which is likely one of the issues he has faced in hiring people.
So the district plans to restructure its pay, offering higher salaries, Catalana said.
"I think it's also just the lack of people applying nowadays," he said. "There seems to be a shortage in the number of applicants. "
As of Monday, the district had about 27 vacancies listed on Northwestr1.tedk12.com/hire/index.aspx.
Some of those jobs are in food services, and no students have applied for these openings because of the early morning hours, Hawk said.
She said every student hired went through the same hiring process as any other employee, including a background check.
"When the time comes to fill in their tax information, it will be an eye-opening experience for the children as well," she said.
Hawk said she was thrilled the students were starting their new jobs.
"We'll just try to work with each child individually to figure out what's going to work, and we know it won't be perfect, smooth sailing, but it's not perfect, smooth sailing with the adults of the world. Either." , she said.
Catalana said all students still interested in working for the district can apply through the district's website.