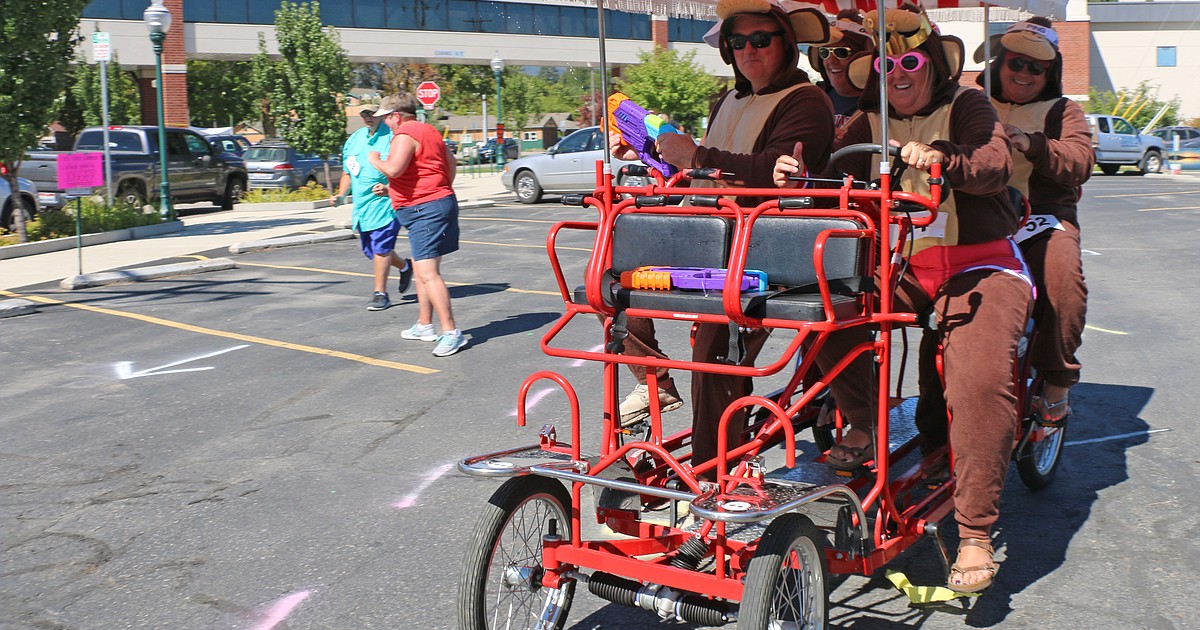 Lazy Run .08K is serious fundraising
SANDPOINT – It's a tough course, the Lazy .08K race.
From one end of MickDuff's Brewing Company's Beer Hall, intrepid runners must make their way through several challenging obstacles strewn along the course as they make their way to the finish line. First, the toss of toilet paper; quickly followed by the ring toss. A brief stop halfway brings refreshment – a container of gummy bears and donut holes – before limbo tests runners' nerves and flexibility.
By now you might have guessed that Angels Over Sandpoint's Lazy .08K isn't your average fun run. The goal is most definitely to have fun and fundraise to help the community.
When people first see the games and the atmosphere of the festival, they wonder what's going on, Angels member Shanna Yarbrough said. Then they try it out and have a great time.
"We all the people that went in the first year came back so they must have had a good time," Yarbrough said. "So that's all we want to do, have a good time, forget about some of our things that are going on in the world and have a good time and just support a great charity and the community."
The idea was inspired by a similar event in Texas, a 0.5 mile run, and after hearing about the event, member Kate McAlister told other Angels members that they should try to achieve something. something similar to Sandpoint.
While there was no room at Beer Hall to hold a .5K – the angels say .08K is an "approximate measure" of how far runners must travel. What it does is allow them to organize an event where the focus is on fun and fundraising to help the community.
Holding it at Beer Hall allows them to hold it in a central location and helps the Angels support a business that not only supports their club but also many, many others in the community.
"MickDuff's is always one of the first breweries to come forward to help with anything, be it fundraising or something," said Angels member Alyse Ehrmantrout. "So they've always helped the angels, and we wanted to make sure we stayed here to help them as well. "
As the runners mingled, talked, sat at tables and played music, stood up and danced. Others sat at nearby tables, enjoying the sunny Saturday afternoon, many with an adult drink in hand or for under-age attendees, a root beer. Laughs, jokes and the occasional water balloon drifted through the air.
"I think Sandpoint is a small town and there are a lot of races going on [in the region]"said Ehrmantrout." And so that's kind of a mockery of all other races and for anyone who doesn't want to run a 5k or can't and would just prefer you to know, give an organization a goal nonprofit and drink beer and grab donuts. "
With limited space, Ehrmantrout said the Angels added games – and the ability to purchase a VIP package that allowed runners to ride the course in comfort – to make the event as fun and entertaining as possible.
This attitude of having fun while helping others has helped the Angels raise over $ 2 million – all of which return to the community to help others, whether through the Angels' Back backpack program. to School, scholarships and community grants. and a host of other programs, including Priest River Ministries for Women and rental and utility assistance.
"We're just a group of men and women… who want to give back to our community," Yarbrough said. "We love Sandpoint and we love Bonner County and that's why we're all here."
For runners, the focus is definitely on having fun.
"So this year I took a year off to train for the Olympics," joked Tom Bokowy, joined by his wife Jacinda and his friends Bill and Stephanie Aiken dressed in monkey costumes in the VIP tent. "I didn't feel safe so I decided to put my energies into this one this year and I'm looking, I'm looking at the podium."
Starburst mugs scattered around the table and wearing paper crowns to signify their status as VIP runners, the foursome joked about their training regimen and dedication as athletes.
"I was dreaming… a lot of bananas, a lot of climbing, a lot of upper body work, a lot of back scratching, a lot of this, a lot of that," Bokowy said, causing the others to laugh. of the group. "So I think we have a good shot this year. "
Noting their outfits, Bokowy joked that the others who turned out didn't train and take the race seriously, as evidenced by their inability to wear proper outfits.
"I feel like other people don't take him seriously," he said impassively, eliciting another wave of laughter. "I feel like we're really the only athletes taking it seriously at this point. I mean you look around, I mean you've got people here like you can tell they don't. don't take it seriously. We worked hard, we trained. "
Caroline Lobsinger can be reached by email at [email protected] and follow her on Twitter @CarolDailyBee.