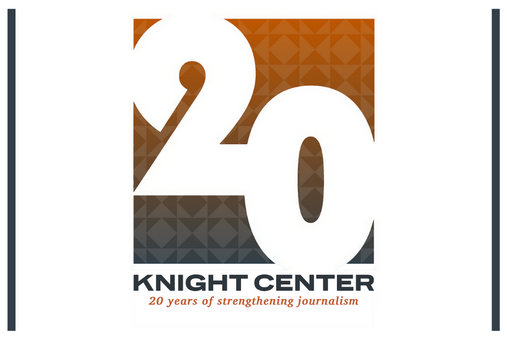 Knight Center celebrates 20 years of strengthening journalism around the world
The Knight Center for Journalism in the Americas will begin its 20th anniversary celebrations with a special seminar at the University of Texas at Austin.
The hour-long seminar, which will be in English, will be streamed live on YouTube on August 31 from 4-5 p.m. U.S. Central Time. Immediately after the live broadcast, the recording will be available on YouTube at https://youtu.be/GvcKJc_6-dE.
Moody College of Communication Dean Jay Bernhardt will chair the celebration, which will also welcome Jim Brady, Knight Foundation Vice President for Journalism, and international guests who will speak about the Knight Center's impact on their careers and on journalism.
This is an opportunity to mark two decades of courses, conferences and publications that have strengthened journalism around the world, from Argentina to Zimbabwe, reaching virtually every country on the planet and benefiting thousands of journalists.
"When we launched the Knight Center 20 years ago in August 2002, I could not have imagined that we would have such a big impact for so long," said Professor Rosental Calmon Alves, founder and director of the Knight Center. "Initially, the center was to focus only on Latin America and the Caribbean for four years. Later, it became global and we are celebrating our 20th anniversary here!
Professor Rosental Alves started the Knight Center in 2002 with a $2 million grant from the John S. and James L. Knight Foundation. At first, its activities focused on building organizational capacity and training journalists – in person and online – in Latin America and the Caribbean.
Eventually, the Knight Center expanded its training operations on a larger scale, creating its first massive open online course, or MOOC, for journalists in 2012. Since that first course on data visualization with Alberto Cairo, Knight Chair in Visual Journalism at the University of Miami, Knight Center has reached more than 275,000 people from 200 countries and territories with courses in multiple languages.
Along with its online courses, the Knight Center has hosted webinars for its global audience on topics reflecting topical discussions or debates in the world of journalism. For example, in January 2022, it hosted a multilingual webinar on the latest developments in COVID-19 reporting, which attracted attendees from 85 countries.
The Knight Center has also developed important and impactful conferences, such as the annual International Symposium on Online Journalism (ISOJ) and the Ibero-American Colloquium on Digital Journalism. The 23rd ISOJ, held in April 2022, brought together 1,227 attendees – 296 in person in Austin and 931 online – ushering in a new era of hybrid conferencing. In addition to industry discussions on the present and future of online journalism, this global conference includes an academic research component and publishes the Journal #ISOJnow in its 13th volume.
Additionally, the Knight Center previously organized the Austin Forum on Journalism in the Americas, which was held from 2003 to 2013, and focused on important topics such as the protection of journalists and access to information.
As of 2020, the Knight Center publishes the Journal of Latin American Journalism, a trilingual digital magazine in English, Spanish and Portuguese, covering journalism and press freedom issues in Latin America and the Caribbean. He took over this mission from his predecessor, the Journalism in the Americas blog, which ran from 2003 to 2020.
The Knight Center also maintains a digital library of e-books on topics ranging from diversity in newsrooms to membership models to global journalism education, and more. The books are available in English, Spanish and Portuguese and can be downloaded for free.
These are just a few of Knight Center's programs and activities to keep journalists informed about the digital revolution and help promote press freedom around the world.
Throughout the next year, the Knight Center will continue to celebrate its accomplishments and impact on journalism.