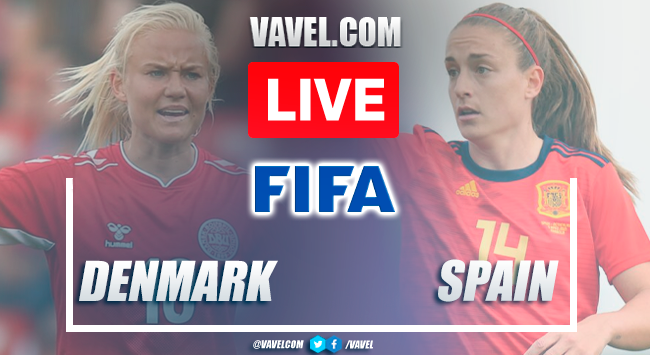 Goal and highlights: Denmark 0-1 Spain at the 2022 European Women's Championship | 07/16/2022
Thanks for joining us in this game
Thank you for joining us in the broadcast of the Denmark 0-1 Spain match, we are waiting for you at VAVEL for other broadcasts.
Game over
The referee whistles the end of the match, Spain wins the match.
84′
Neither team concedes a goal, the game ends and it looks like the game will end scoreless.
77′
Denmark are starting to take risks and are about to score a goal.
70′
Spain continue to control the game, continuously attacking Denmark.
64′
Very good defense from Denmark, but a draw would exclude them from the tournament, so they have to start risking to win the game.
57′
Spain keep the pressure all over the pitch looking for a defensive error.
51′
Spain play in long position to calm Denmark who had several dangerous attacks.
46′
The second time begins.
half time
The teams rest and the score is Denmark 0-0 Spain.
45′
1 minute of compensation is added.
37′
Spain are looking to score their first goal and press the whole pitch.
31′
First yellow card of the match and it goes to the Spanish player Leila Ouahabi.
29′
Spain attacks patiently, moves the ball and waits for a defensive error.
22′
First corner for Spain.
17′
Denmark are starting to have dangerous attacks, they play on the counter-attack.
11′
Fairly equal game, Spain begins to dominate the match and we are still waiting for the first goal of the match.
6′
Tight game in midfield, with both teams looking for their first chances to score.
0′
The match begins, both teams will look to stay with the win.
Battle for Victory
Last showdown!
The last time these two teams met was on June 15, 2021 in a friendly match and on that occasion the match was won by Spain 3-0. This match was full of fouls, yellow cards, corners and many goals which we hope will be repeated today.
History between the two teams
Denmark and Spain have met only once and today will be the second official match in which both teams will play. The other two teams in Group B (Germany and Finland) play at the same time.
Arrival from Spain
Welcome!
We're less than an hour away from kicking off the game between Denmark and Spain at the Brentford Community Stadium. Both teams will go in search of victory. Who will do it tonight? Follow our coverage on VAVEL.
Tune In Here Denmark vs Spain Live Score
Don't miss any match details with live updates and commentary from VAVEL. Follow with us all the details, comments, analysis and composition of this Denmark vs Spain match for the European Women's Championship.
What time is the Denmark vs Spain match for the 2022 European Women's Championship?
It's the start time for the Denmark vs Spain game on July 16 in several countries:
Argentina: 4 p.m. on Star+.
Bolivia: 3 p.m. on Star+.
Brazil: 4 p.m. on Star+.
Chile: 4 p.m. on Star+.
Colombia: 2 p.m. on Star+.
Ecuador: 2 p.m. on Star+.
US (ET): 3:00 p.m. on ESPN2 and TUDN.
Spain: 9 p.m. on RTVE.es.
Mexico: 2 p.m. on ESPN and Star+.
Paraguay: 4 p.m. on Star+.
Peru: 3 p.m. on Star+.
Uruguay: 4 p.m. on Star+.
Denmark Last composition
Here are the eleven players who started the last game:
Lene Christensen, Stine Ballisager Pedersen, Katrine Veje, Rikke Sevecke, Sofie Pedersen Junge, Sanne Troelsgaard, Janni Thomsen, Sara Andersen, Signe Bruun, Pernille Harder and Nadia Nadim.
The last composition of Spain
Here are the eleven players who started the last game:
Sandra Paños, Mapi León, Irene Paredes, Laia Aleixandri, Leila Ouahabi, Ona Batlle, Patri Guijarro, Aitana Bonmatí, Mariona Caldentey, Sheila García and Lucía García.
Denmark players to watch
There are three players who stand out in the team who are responsible for Denmark's attack, it is very important that they play well on Saturday for them to win. We start with Pernille Harder (#10), she is one of the best players in Chelsea FC and in the FA WSL of England she scored 6 goals in 16 games. The midfielder is very important for the team, she scored a goal in the game against Finland and it is very likely that she will score a goal on Saturday. The next player is Nadia Nadim (#9), in 3 games played she scored 3 goals in the United States National Women's Soccer League with Racing Louisville FC. It will be very important to create dangerous games. Finally, Signe Bruun (#20), had an incredible season with Olympique de Lyon, she scored 6 goals during the 2021-2022 season for which Manchester United hired her. The 24-year-old striker will have to use her experience to lead the team to victory.
Denmark in the tournament
Spanish players to watch
The following three players are considered key to the offensive and defensive attack of the Spanish team. First Aitana Bonmatí (#6) is a Club Barcelona player and plays as a midfielder. She in the 2021-2022 regular season in the first division of Spain, she scored 13 goals in 25 games played and scored one goal in the game against Finland. It is very likely that we will see her score a goal in the match, she is a fundamental part of the team. The next player is Mapi León (#16), she plays as a defender for Club Barcelona, ​​in the Spanish First Division, she has 2 goals and 5 assists in 22 games. She's the team's top assist in the tournament with two assists, so we might see her get her third assist in Saturday's game. Finally, Mariona Caldentey (#8) plays as a striker for Club Barcelona, ​​in the 2021-2022 season she ended up playing 15 games as a starter with 6 goals and 5 assists. She will be very key in midfield to form dangerous plays and keep control of the ball.
Spain in the tournament
UEFA European Women's Championship
Also known as the Women's European Cup, this is an official international championship played between the women's national teams of Europe. It is approved by FIFA and takes place every four years. The last champion was the Netherlands, on August 4, 2017 they played Denmark and the Netherlands team ended up winning 4-2.
Welcome to VAVEL.com's live coverage of the 2022 European Women's Championship: Denmark vs Spain!