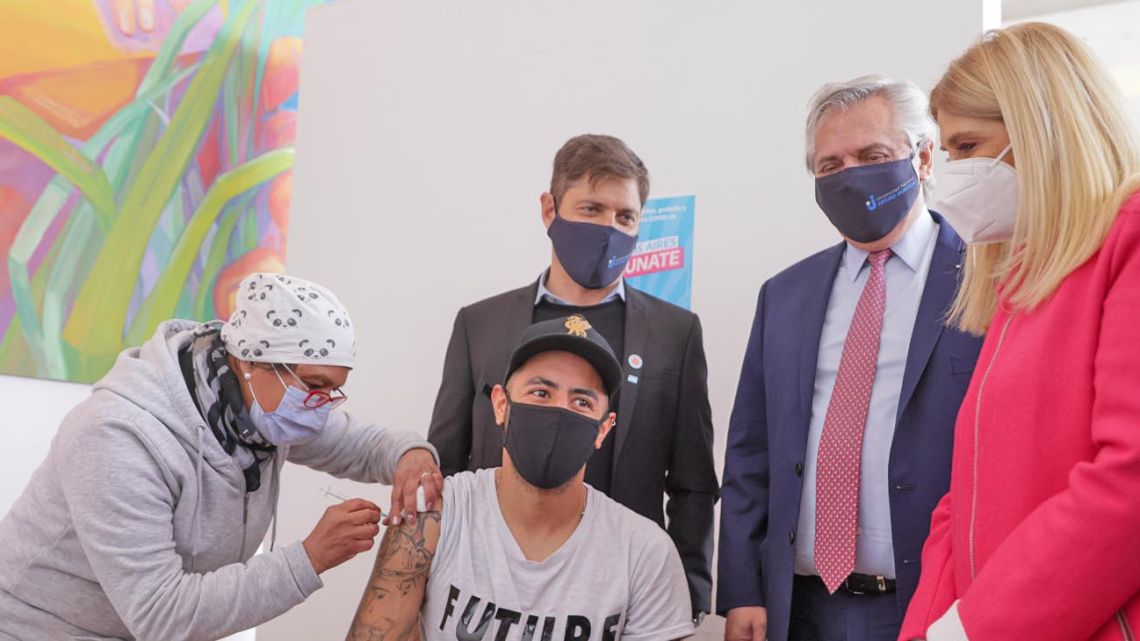 More than half of Argentina's population has now been vaccinated against Covid-19, according to official data – although the achievement has been eclipsed this week by concerns over the lack of supply of Sputnik V injections.
The benchmark comes following a decrease in the number of deaths and confirmed infections over the past few days.
On Friday, the health ministry confirmed that 15,622 cases and 286 deaths had been recorded in the previous 24 hours, bringing Argentina's cumulative totals to 4,737,213 and 101,158 respectively. The bed occupancy rate in intensive care units also declined, reaching 58.5% nationally and 56.3% in the Buenos Aires metropolitan area (AMBA).
According to the government's Public Vaccination Monitor, at the time of printing on Friday, a total of 29,362,896 doses have now been administered to citizens and foreign residents in the country. A total of 23,437,015 received one dose, of which 5,925,881 completed the immunization schedule.
According to Bloomberg New's global immunization tracker, 51.6% of Argentina's population received a dose, with just 13.1% of both.
In a social media post on Thursday, President Alberto Fernández welcomed the news. "More than 50% of Argentines are vaccinated with at least one dose and we already have 40 million doses of vaccine in the country. In each of these photos we see the joy of being closer to the life we ​​want. We continue to vaccinate, "declared the Peronist leader.
Argentina has, to date, received more than 39 million doses of Covid-19 vaccine (12.9 million Sinopharm; 11.8 million Sputnik; 9.1 million AstraZeneca, but produced in Argentina; 3.5 million Moderna , donated by the United States; 1.9 million AstraZeneca via the COVAX device of the World Health Organization and 580,000 AstraZeneca-Covishield).
Sputnik fears
It emerged on Thursday that the government had complained to Russia about delays in deliveries of the second dose of its Sputnik V vaccine, sending an email warning of the repercussions of breaching the contract.
The letter, dated July 7, was sent to the Russian Direct Investment Fund (RDIF), which financially supported Sputnik V. In it, presidential adviser Cecilia Nicolini warned Russian authorities that the shortages "are leaving us very few options to continue fighting for you. and this project!
The letter said Argentina understood that there had been "production difficulties", but added that "now, seven months later, we are still far behind, as we start to receive regular doses from others. suppliers, with respected schedules. "
"We are facing legal action because of these delays as public officials, endangering our government," Nicolini told Anatoly Braverman, first deputy managing director of the Russian Direct Investment Fund, referring to a conversation between Argentine and Russian officials. "We are again in a very critical situation.
Highlighting the extent of the fears, administration official Alberto Fernández said the lack of supplies had left the country in a "very critical situation", saying it put the government at risk in the upcoming mid-election. mandate.
Argentina signed an agreement with Russia for 30 million doses of Sputnik V, of which it received less than 12 million, according to Nicolini. He received 9.37 million doses on the first shot, but only 2.49 million on the second, meaning that around 6.6 million citizens or foreign residents are waiting for a second shot.
Inoculation with Sputnik V, produced by the Russian institute Gamaleya, requires two doses which differ from each other and cannot be interchanged or mixed with other vaccines. According to information released Thursday, only 493,000 doses of the first component Sputnik and 257,922 of the second dose remain in Argentina.
Kremlin spokesman Dmitry Peskov said on Friday that the "delays" in supplying Sputnik to Argentina were due to the need to step up national vaccination as cases increased. "We have always said that the main priority is to ensure that Russians can get vaccinated," he said on a conference call with reporters.
He said RDIF would solve any problem with sourcing foreign customers – an implicit reference to Argentina's situation.
Breakthrough?
Nicolini played down reports of a dispute on Thursday, saying communication with Moscow was "constant" and "very good". The letter is not "a threat," she added.
Either way, however, it may have paid off – on Friday, the RDIF released a statement saying it had held a meeting with health ministry officials to address concerns.
"After a virtual meeting between [Argentina's] The Ministry of Health of the Nation and the team of the Russian Direct Investment Fund (RDIF) which took place today, we reaffirm our joint work to guarantee and accelerate the supply of the Sputnik V vaccine to Argentina " , said the fund. "We are confident that we will solve all problems in a positive way and that we will continue with the commitment we made."
"In addition, thanks to our commitment, we have been able to increase local production and we already have nearly two million doses of the two components approved or under approval for their rapid distribution," said RDIF.
The Argentine government was one of the first and most enthusiastic users of Russian Sputnik and began vaccinating its citizens against Covid-19 with the Sputnik V vaccine outside of trials in late December. President Fernández was among the first to receive him during a public demonstration of confidence.
Faced with an initial shortage of vaccines, the government intentionally prioritized the administration of a first dose to citizens. But Russia's struggle to produce the second dose has left a gap in the number of Argentines able to complete the inoculation within the recommended three-month time frame. Despite orders for hundreds of millions of doses of Sputnik, a slow start in production means only a fraction has been delivered, leaving some countries facing delays in their vaccination programs.
Russia registered Sputnik V last August ahead of large-scale clinical trials, sparking concern among experts about the expedited process. It has since been found to be over 90% safe and effective in a report published by leading medical journal The Lancet, restoring confidence.
RDIF has signed production agreements with several countries, including India, which is expected to produce several hundred million doses per year. The investment fund says its two-dose vaccine has been approved in 68 countries and has applied for registration in the European Union.
– TIMES / AFP / BLOOMBERG