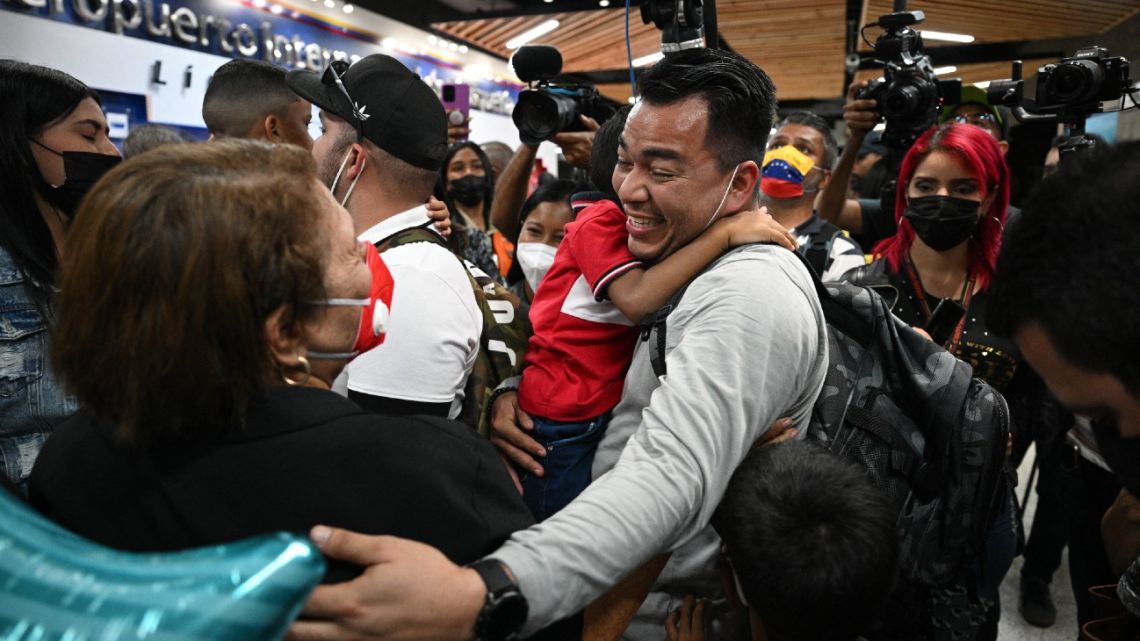 Buenos Aires Weather | Twelve crew members of Venezuelan plane detained in Argentina return home
Twelve crew members of the Venezuelan cargo plane held in Argentina for more than three months, due to an investigation involving the United States and Iran, were welcomed Friday by family members and officials at an airport near Caracas.
"I'm extremely excited to be back. Really being here, sharing it with our family… fills us with emotion," Captain Vicente Raga, one of the crew members, said in an interview with state television.
He was speaking after they arrived on a flight at Maiquetia International Airport, about 25 kilometers from the Venezuelan capital.
On Tuesday, an Argentinian court cleared the departure of 12 of the 19 crew members of the detained plane, which is owned by the airline Emtrasur, a subsidiary of Venezuelan state-owned Conviasa, a US-sanctioned company.
The Federal Court of Appeals in La Plata upheld the decision of Judge Federico Villena, who on August 1 lifted the ban on 11 Venezuelan crew members and one Iranian from leaving Argentina, according to a decision published in the hurry.
"A part of us stayed there, with the comrades who did not come [with us]but we hope they will be back soon," added Raga.
Four Iranians – including Gholamrez Ghasemi, who is accused of being a member of Iran's Al Quds Force, a branch of the Revolutionary Guards – and three Venezuelans still face banning orders, preventing them from leaving the country.
"We are celebrating the arrival of our first 12 crew members from our Emtrasur aircraft. They are an example of ethics, strength and struggle," Transport Minister Ramón Velásquez Araguayán said at a reception prepared by the Venezuelan government, which described the situation in Argentina as "a kidnapping".
The Emtrasur Boeing 747 arrived in Argentina on June 6 from Mexico with a Venezuelan-Iranian crew and a shipment of auto parts.
Unable to refuel in Buenos Aires due to US sanctions, the plane departed for Uruguay on June 8, but was refused entry by Uruguayan authorities and had to return to Argentina's international airport. of Ezeiza, on the outskirts of the capital.
An investigation was then opened by the courts, which quickly applied the restraining orders against the crew.
The plane was purchased a year ago from Iranian airline Mahan Air.
In mid-August, Judge Villena granted a US request to seize the Boeing 747 in response to a District of Columbia court order that US export control laws had been "violated" during the sale of the Boeing 747. the plane.
– TIMES/AFP