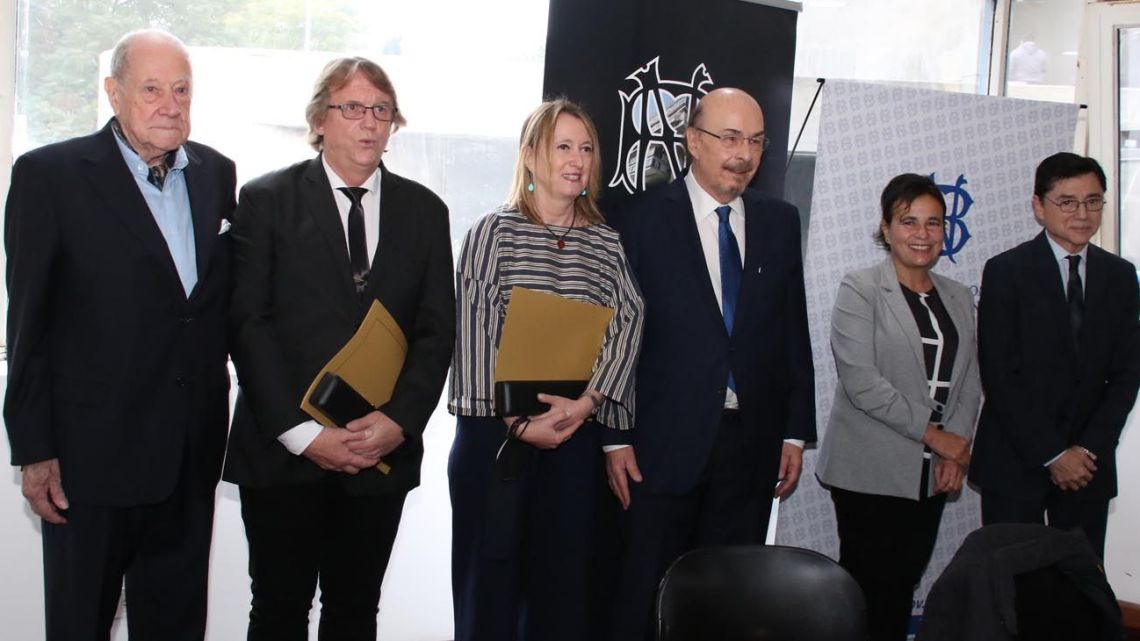 Buenos Aires Weather | Three for one and one for all
In these times of fake news, honor may seem almost as outdated among journalists as pens (despite the vice president's recent highlighting of the tool), but the Academy's three Pluma de Honor awards national newspaper on Journalists' Day last Tuesday were all richly deserved in their different ways – even if the heart of this newspaper is obviously closest to Robert Cox as successors to his Herald of Buenos Aires.
In any event, Cox led the way chronologically at least as the winner of the 2020 Excellence Award, followed by Elisabetta Piqué (2021) and Daniel Enz (2022) – catching up with a three-year delay due to the coronavirus pandemic, as explained by the president of the Academy Joaquín Morales Solá. The latter began by asking: "What can be said of Robert Cox that has not already been said?" prompting the old Herald editor to begin heading to the podium to deliver his acceptance speech, only to be stopped by a "Momento!" of a Morales Solá far from having finished with his praises.
Citing Cox's core tenet that 'journalism is free or it does not exist', the Academy president described him as an extraordinary writer walking the talk into action – arrested and then exiled by the dictatorship serviceman from 1976-1983 for exposing his human rights abuses, Cox's position placed him among journalists on the balance between life and death. This defense of human rights obviously forms the central part of everything that has ever been said or written about Cox, but Morales Solá added a few other merits – converting the community newspaper he entered in 1959 into a newspaper of political reference for other media since and serving as the 2001-2002 president of the Inter-American Press Association (SIP in its Spanish acronym).
Receive the award given since 2008 in recognition of all those who have worked at the Herald and in the name of the missing journalists rather than for himself, Cox begins by saying: "In Argentina, we know what happens when there is no journalism", as was the case in 1976 with the silence of the press creating a vacuum that his newspaper sought to fill by informing the world about the atrocities of state terrorism. He compared the press response to "an attempt to change Argentina" by standing up for human rights to the much more recent US press response to defend democracy in the face of Donald Trump's challenge. We must look to the past to learn from it, he concluded.
Described by Morales Solá as another journalist on the line between life and death as one of that special breed of war correspondents (in a career spanning this century beginning with Afghanistan and more recently the first seven weeks of the Russian invasion of Ukraine), The Nation's Pique said she had always wanted to be a war correspondent since she was a little girl, always preferring the trenches to the beaches. Describing the truth as the first casualty of war in the age of fake news, she lamented a war in Ukraine entering its 104th day on Tuesday with its destruction of homes and lives, dedicating her award and Journalists' Day to journalists who had perished or disappeared in this conflict (some of whom had joined).
Daniel Enz, author of 16 books and founder of the critical magazine To analyse (which began in 1990 with two chairs and a typewriter), whose three-decade crusade against drugs and corruption in Entre Ríos was recently crowned by the sentencing of former governor Sergio Urribarri to two terms, been presented by Morales Solá as the most important inland investigative journalist in Argentina.
Enz agreed with Morales Solá's comments about the intensity of the work involved in investigating corruption without margin of error due to the loss of credibility. Starting with corruption in public works, Enz moved on to crooked politicians, evil priests and narcos in a daily battle against corruption and drug trafficking whose reward was litigation, debts and threats leading to police bodyguards in front of his house. Despite this, he concluded: "We must denounce power and take care of the most needy. We still love journalism, uncovering hidden stories. We are journalists and proud of it.