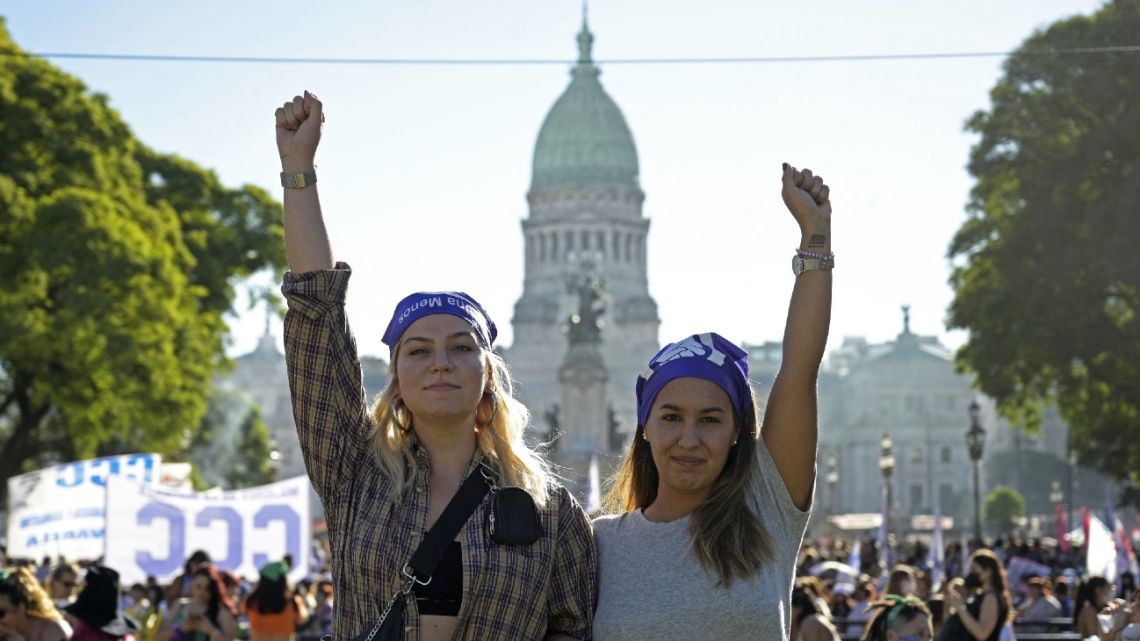 Buenos Aires Weather | Thousands gather to mark International Women's Day
Thousands of women marched across Argentina on Tuesday to express their rejection of gender-based violence and demand equal rights on International Women's Day.
"The debt is with us" was one of the slogans used during the main march which gathered outside the National Congress in Buenos Aires, the national capital – a reference to the talks inside the national legislative building where a new financing program with the International Monetary Bank The fund is under discussion.
Most protesters pointed to the continuing problem of violence against women in the country, which recorded 54 femicides in the first two months of this year, according to La Casa del Encuentro. The figures collected by the NGO conclude that 63% of the victims were murdered by partners or ex-partners.
In 2021, the organization recorded 305 femicides, following which 336 children were left without their mother, 58% of whom were minors.
"We have to change everything," said Mariana, 17, who only identified herself by her first name. She wore clothes painted with red ink in blood and the inscription: "Enough is enough".
Women of all ages, many carrying the banners of student, labor and political organizations, filled the Plaza del Congress to demand more protection from the state.
"State Absent, Deaths Present" and "Being a Woman Shouldn't Cost Our Lives" were just two of the posters hanging from the railings of the National Congress building.
"It's very moving to see so many women fighting for the same thing, we feel protected among all of them," said Micaela Bogado, a 22-year-old university student.
"There is still a lot to do. Equality, the same conditions that men have as us," she added.
Next to her, a young woman holds up a sign saying: "They are not animals, they are men" – a reference to the case of the gang rape of a 20-year-old girl in the Palermo district of Buenos Aires in broad daylight a week ago. Six men are currently under arrest for this crime.
"I'm tired of not being able to go out in peace, [having] the peace of mind that men have," confessed Belén Bettis, a 31-year-old midwife who calls for "social change at the root" to combat male chauvinism.
Autonomy over women's bodies, precarious employment and income inequality compared to men and institutional violence were the main themes of a document that was read during the event.
President Alberto Fernández called on men to do more in a tweet.
"This 8M [March 8, International Women's Day] think too, we men. It's time for us to take matters into our own hands. It is not only a question of accompanying them, we must rethink and avoid these actions which aggravate inequalities between the sexes. Only then will we be a better society," he said.
– TIMES/AFP