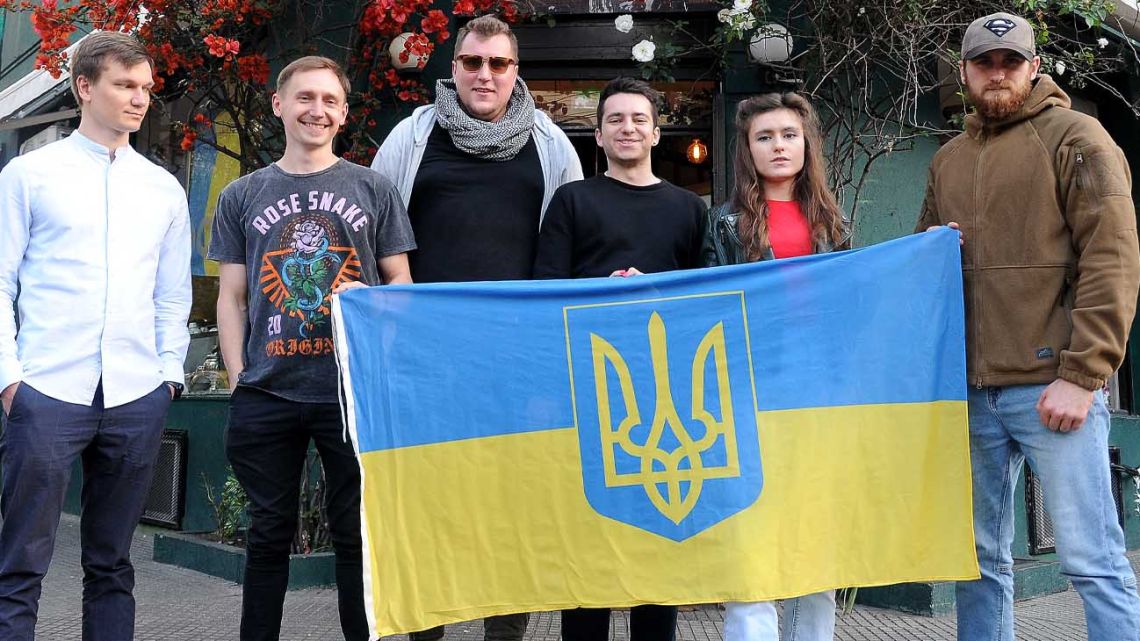 Buenos Aires Weather | In a Buenos Aires bar, a new community bonds over a shared hatred of Putin
The mafia game they play is a battle between an informed minority and an uninformed majority. Players are assigned their roles in secret – they are "mafiaor "citizens". There are also other characters like "the governor", "the judge", "the maniac", "the bomb", "the sergeant", "the cop" and "the godfather". Attacks in the game are nocturnal when participants have their eyes closed and cannot see the faces of their assassins. The only thing that can save them is a democratic vote by which they will find the culprit. When "the people" agree, they kill the suspect.
This version of the "Poli-Ladron" ("Cop and Robber") card game, created in 1986 during the Soviet period for a research project, is today played in Buenos Aires by a group of young Russians fleeing their country to not to be sent to war.
It is undoubtedly a disturbing metaphor of the reality that they have decided to flee.
This is a group of 10 friends, aged 26 to 32, who only met at the beginning of the year in Argentina following the outbreak of the conflict between Russia and Ukraine.
Fedor was actually born in the latter but lived most of his life in Voronezh Oblast in Russia. He had already been in the Russian army for six years, reaching a high rank. Until at the start of the war, he was asked to go and fight against Ukraine, his native country. With his wife, he bought four Turkish Airlines plane tickets, two of which were roundtrip, even though he knew from the start that the latter would never be used and only served to justify his exit, which did not was not difficult. Today he is in Argentina as a refugee.
"I never liked Putin's government, even before the war. When the bombardment started, I immediately knew that I had to leave", says Anton, born in Siberia.
His mother, grandmother and sister remain in Russia, but he is not afraid for them: "They are all women, they will not be called to war. I can help them from here. His future plan is to stay and live in Argentina although he currently has a tourist visa which he has renewed.
"I don't see any good scenario for Russia right now. I feel like Putin stole my country from me, I don't have a nation anymore," he laments, adding, "I recognize the value of [Ukrainian President Volodymyr] Zelensky.
Sergei is the one who keeps the group together. Unlike the others, he did not arrive in Argentina at the beginning of this year but in 2000, with his mother. But he was also fleeing an armed conflict – the brutal and bloody Second Chechen War, which ended with the Russians reasserting their control over the territory, had just begun. His mother did not want him to go into battle. "Russia is still at war," he explains.
Born in Kazakhstan, Sergei is fluent in Spanish and owns Apórt, his own bar in Almagro, which serves as a focus for his group of friends.
Apórt is a kind of apple grown in Almaty, the former capital of Kazakhstan. A flag hangs at the entrance to the bar but it's not Russian. "To express my solidarity with the Ukrainian people," he says to justify the colors blue and yellow.
"Argentina was a good option for emigration because they don't extradite people here unless you're a criminal," he explains.
Today he has Argentine nationality after having had a temporary and then permanent DNI identity document in the early years.
"I am happy that Argentina is open to people from all over the world and proud that it does not close its doors to Russians who do not want to participate in this war. The only good thing about this conflict is that it united us as a community," he said.
Daria arrived in Argentina in July with a couple of friends. She only has a relationship with her mother within her family because, in her own words, "in Russia, most are either pro-war or indifferent. I'm against it, that's why I'm here. Because, to tell the truth, I did not want to emigrate," she admits.
"Putin is a wild beast that needs to be cared for," she says. A friend of his runs his thumbs over his neck in reference to how the Kremlin leader "should be healed". Although the wiser Daria says he should be placed in solitary confinement.
Ivan, 31, arrived from Moscow. He is a soldier so as soon as the war started he left Russia.
"It's hard to say who I would like to win the war but right now it's Ukraine. I'm not a doctor but maybe Putin is crazy. Now he's just a strategist and everything has become a game for him. He does not think about Russians or the economy of Russia, "Ivan says.
He thinks Buenos Aires is like Moscow: "They are two great cities, good for business." As for Zelenskyy, the Russian believes he is doing a great job as president.
Although he did not spend his last years in Russia, Andrei is still worried about his family and friends: "I share the grief of my country and my people. We arrived from different cities but there is a solidarity between us and I hope it will continue.
Andrei, together with other emigrants, prepares a guide to help his compatriots flee from Russia to Argentina.
Since September 21, when Putin announced the recruitment of some 300,000 men into the reserve, 700,000 Russians have fled their country to avoid being drafted into the army. Although official data from the Moscow Ministry of Defense indicates that 9,000 Russian soldiers have been killed since the start of the war, other sources calculate much higher figures. NATO estimates the number of dead, wounded and missing since the start of the conflict at 40,000 Russian soldiers.
Ukraine's figures are equally imprecise – the Kyiv government puts the number of Ukrainian fighters killed at 9,000 but Russia claims at least 23,000 were killed.
Russians fleeing military service seek the most varied destinations, ranging from neighboring Finland to Turkey, Israel and even Venezuela.
More than 65,000 Russians have entered the European Union (EU) since the reserves were called up, up 30% from the week before the announcement. Most entered Europe via Finland, often used as a transit country for the purpose of crossing into other EU countries. In recent weeks, there have been up to 35 kilometers of traffic jams at the Vaalimaa border pass between Finland and Russia.
For those unable to cross the border on foot or by car, a plane ticket from Moscow to Helsinki, the Finnish capital, can cost 75,000 rubles, the equivalent of US$1,100 or more than 300,000 pesos. at the "blue" rate. Added to these prices are the new Finnish restrictions for "tourists" from Russia.
After the call, the Russian "tourist" exodus grew considerably as a form of escape from the country without obvious escape, simulating a tourist outing instead. The Finnish Interior Ministry has said that asylum applications will be assessed in a special way.
Military service in Russia is compulsory for men between the ages of 18 and 27. At the start of the war, the Kremlin army had 850,000 soldiers in active service while Ukraine had 170,000, of which 100,000 were in reserve.
The Ukrainian Ministry of Defense has released audio recordings of Russian soldiers in which they express that they live in terrible conditions, saying things ranging from: "We are hungry and we have nothing to eat" to "The plan didn't work".
In another batch of alleged audios revealed by The New York Times, Russian troops say they are losing the war with entire battalions wiped out. Active duty soldiers receive a salary, something to consider for those who decide to remain in the line of battle.
Technology helps to escape the horror
The Russians aren't the only ones with an escape plan. Thanks to the talent of Argentinian programmer Alejandro Zuzenberg, the organization Helping To Leave works around the clock to evacuate Ukrainians. From psychological and financial assistance to transit to safe areas, the NGO has helped more than 100,000 people. Some describe it as a search for survival or "the direct line to evacuate Ukrainians",
"We never imagined that a bot from our platform would literally save lives in a war. Despite the sadness produced by what is happening in Ukraine, we are very proud to be able to help thousands of civilians flee to 'other countries,' says Zuzenberg.
Requests from those who need help are received through a bot from the social network Telegram. Chatbot labeled and developed by Argentinian, it works in several languages: Ukrainian, Russian and English. The applicant must say where he has to flee from, Kherson, Mariupol or Donetsk, how many there are, where they want to go and whether they have pets. Depending on their answers, they are transferred to a volunteer.
"In mid-March, we noticed an unusual volume of activity on one of the accounts. That's how we came to Helping To Leave. At that point, we contacted them to help create the bot, arranging so that the application does not entail any cost for the NGO. The chat is the first contact with the civilians", explains the creator.
More than 7.5 million Ukrainians have fled their country since the start of the war. The United Nations estimates that at least 6,000 Ukrainian civilians were massacred, although it assumes the death toll is higher.