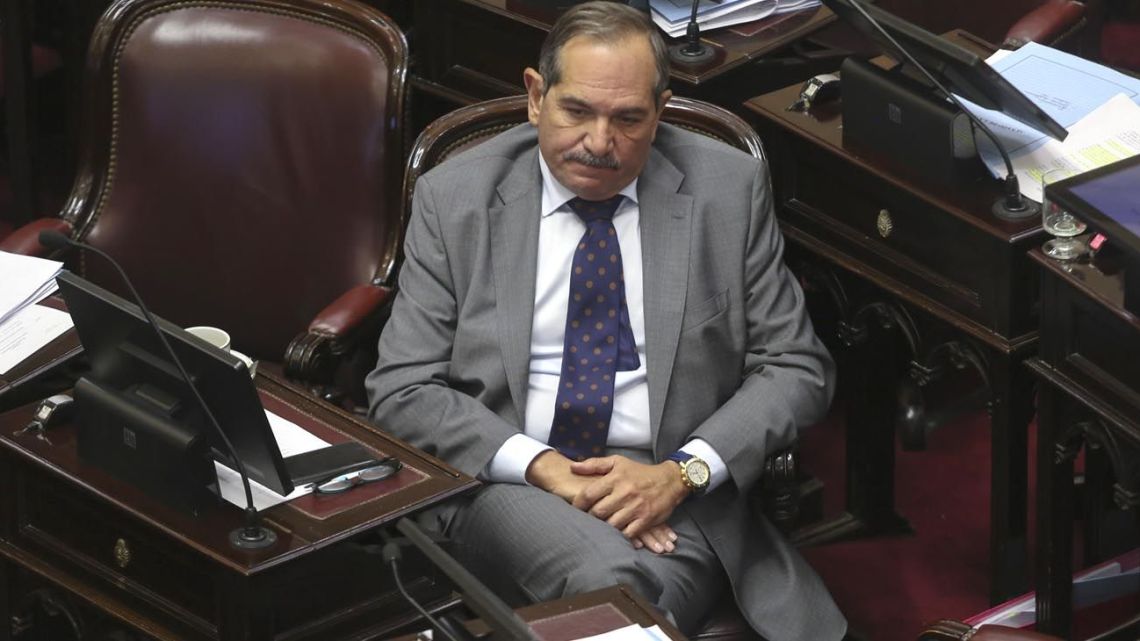 Buenos Aires Weather | Ex-Tucumán governor José Alperovich charged with sexual abuse and rape
Former national senator and governor of the province of Tucumán, José Alperovich, has been officially charged by the courts with sexual abuse and rape.
The complaint against him, first brought in November 2019, was brought by his niece.
On Wednesday, Judge Osvaldo Rappa of the National Criminal and Correctional Court 35 ordered the prosecution of the former governor and ordered the seizure of 2.5 million pesos in assets in a 419-page decision.
The woman, who has not been named by the court, accuses Alperovich, 67, of sexually abusing and repeatedly raping her in 2017 and 2019 in Buenos Aires and Tucumán, while she worked for him on his election campaign.
The decision to charge the former senator, who left office in December last year after requesting leave at the end of 2019, comes after the defendant and accuser appeared in court via video link to give evidence on last month.
Alperovich, who governed Tucumán from 2003 to 2015, testified virtually on April 20. He denied responsibility for the acts for which he is accused and refused to answer further questions.
He is charged with three counts of sexual abuse and six counts of aggravated sexual abuse or rape.
Prosecutors Santiago Vismara and Mariela Labozzetta have called for Alperovich to be charged three times.
The plaintiff's allegations were supported by psychological reports and assessments conducted in connection with the case, prosecutors said, citing documents filed by a medical board and various medical professionals who had contact with the alleged victim. .
In the reports, experts observed that the events took place in an environment of violence.
"The vast majority of cases of sexual abuse, like this, are committed in an intimate environment where it is not always possible to have eyewitnesses to what happened," Vismara and Labozzetta said. .
Argentina's Supreme Court has already ruled that the case should be heard in the federal capital, as a parallel case has been instituted in Tucumán, where the former governor intended it to stay.
Alperovich's defense team can still appeal Rappa's decision, which will then be reviewed by the criminal court.
The former governor continues to deny all charges. In a 2019 letter requesting a leave of absence as a senator, he claimed his accuser had "misrepresented herself as a victim" and that he had "previously" filed a "complaint" against her.
Referring to his testimony, last month he said in a Twitter post that the allegations were "a false accusation [made] in order to exclude me from the political scene.
Allegations
The allegations were first aired by Alperovich's niece, the ex-governor's former personal assistant, in an explosive open letter which used the hashtag '#NoNosCallamosMás.'
According to the woman, the abuse took place over an 18-month period until mid-2019. She alleges that she suffered both "duly documented" physical injuries and psychological damage that caused her to lose 12 kilos.
"I am not writing to convince anyone of anything," she wrote in her open letter, "I am here against the oppression of silence and the need to reclaim my life…by giving a name and first name to the monster. Mine is called José Jorge Alperovich by whom I was sexually, physically and psychologically raped between December 2017 and May 2019.
As a result, his family and professional life have become a nightmare, the letter continues. She expressed reluctance to go into details of the abuse, beyond saying she was kissed, fondled and penetrated against her will, but quoting the words of actress Zuleika Esnal (who spoke out against the abuse). abuse under the same hashtag), she hinted that the senator had a clear preference for anal sex to avoid the risk of pregnancy.
"I was completely trapped (…) never in my life have I cried so much," the letter continues, adding that during this entire period she was unable to take a vacation and did not feel liberated. of her "nightmare" than when the senator was travelling.
Alperovich, 64, was born into a wealthy business family of Lithuanian Jewish descent and ran the family business in Tucumán before entering politics as a radical provincial legislator in 1995. Although nominally radical, his three terms as governor of Tucumán coincided with Kirchner's 12 years of presidency with the result that he became one of the most ardent Kircherites in local politics.
In the 2018 Tucumán provincial elections, he attempted a comeback by running against his chosen successor Juan Luis Manzur, but finished in fourth place with 11.6%.
He served several terms as a senator representing his home province, from 2001 to 2008 and from 2015 to 2021.
– TIMES/NA