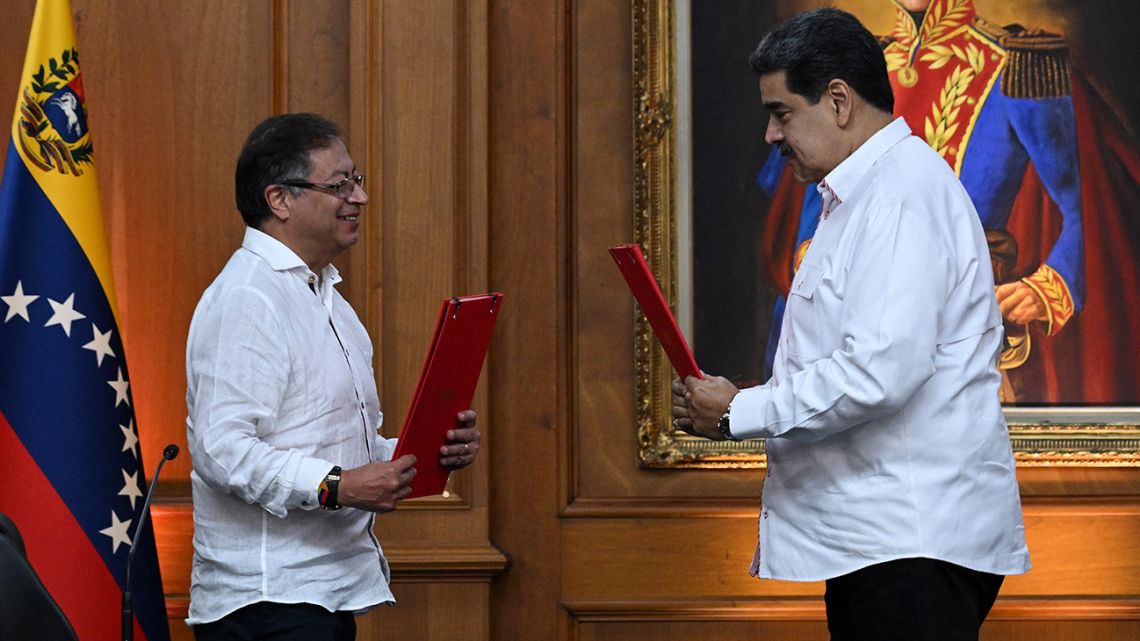 Buenos Aires Weather | Colombian leader visits Venezuela after nine-year hiatus
Colombian Gustavo Petro met his Venezuelan counterpart Nicolás Maduro on Tuesday in the first presidential-level talks since neighbors restored diplomatic ties after a three-year hiatus.
The meeting in Caracas of the two leftist leaders marked a decisive warming between the once distant nations.
Petro, a former leftist M-19 insurgent who was sworn in as Colombia's first leftist president in August, has called for bringing Venezuela back into a regional trade alliance and human rights system.
"We want to invite Chile, Ecuador, Bolivia and Peru to accept Venezuela's reintegration into the Andean Community as a full member," Petro said after meeting Maduro at Miraflores Palace.
Venezuela left the regional trading bloc in 2006.
Petro also called for Venezuela to be reinstated in the human rights convention of the Organization of American States, a continental alliance. Maduro said he was "very receptive" to the idea.
Venezuela severed diplomatic ties in 2019 after increasingly strained ties with Petro Juan Manuel Santos' predecessors and conservative Iván Duque – whom Maduro has even accused of orchestrating plans to assassinate him.
The straw broke the camel's back when Duque backed Venezuelan opposition leader Juan Guaidó – recognized by dozens of countries as the winner of the 2018 elections claimed by Maduro.
It was the first visit by a Colombian president to the Venezuelan capital since 2013.
Visit could 'normalize' violations
Since Petro took over from Duque in August, Colombia's first ever leftist president has moved to restore relations with Venezuela's leftist populist government.
Caracas and Bogotá officially restored diplomatic relations on August 29 by sending ambassadors to each other's capitals.
Guaidó on Tuesday criticized Petro's decision "to visit dictator Maduro… and call him 'president'".
It was "an action that could dangerously normalize human rights abuses…and the world's worst migration crisis," he wrote on Twitter.
More than seven million Venezuelans have left their country since 2014, according to the United Nations.
Some 2.5 million people end up in Colombia, as part of an open door policy carried out under Duque, in support of Guaidó.
Maduro, after the talks, called for "further steps towards a full opening" of the 2,200-kilometre (1,370-mile) common border between the two neighbors, a border that has been infested with armed groups vying for resources and lucrative drug routes.
In September, Colombia and Venezuela reopened the border to vehicles carrying goods, which is seen as the first step towards resuming trade relations worth around $7.2 billion in 2008, but only $400 million last year.
Meanwhile, a string of recent victories from the left in South America appear to have put Maduro in a stronger position.
On Monday, he said he had spoken with Brazil's President-elect Luiz Inácio Lula da Silva to "resume the binational cooperation agenda" nearly paralyzed under the government of far-right leader Jair Bolsonaro.
Russia's invasion of Ukraine – and the strain it has placed on global energy supplies – has also prompted behind-the-scenes efforts by the United States to arrange at least minimal warming with Venezuela, a major oil producer.
by Javier Tovar and Barbara Agelvis, AFP