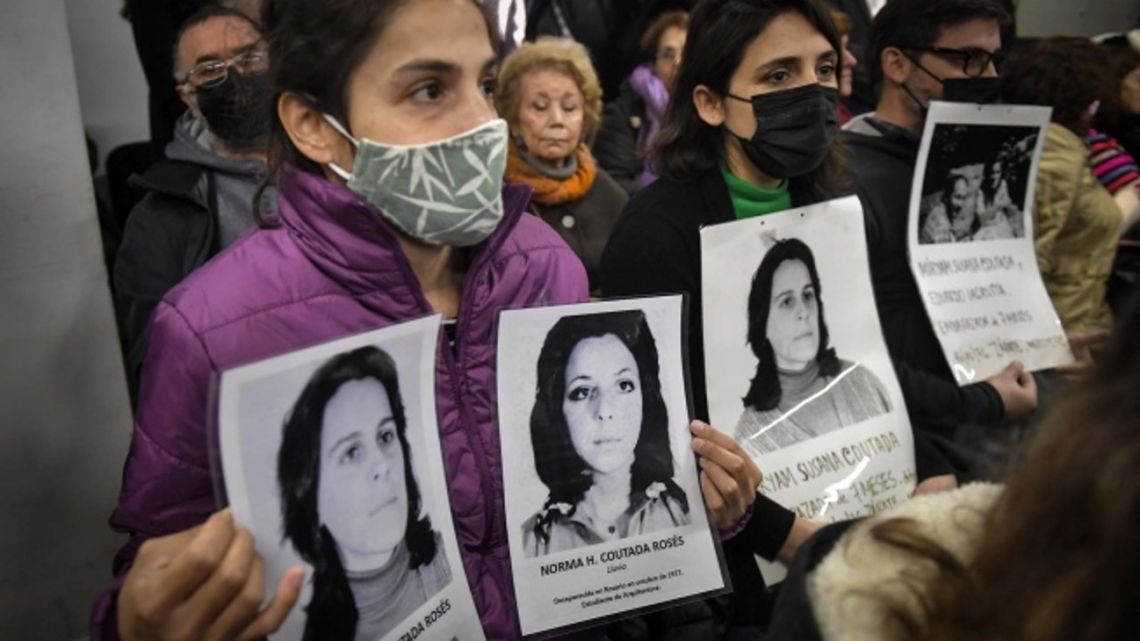 Buenos Aires Weather | Campo de Mayo mega-trial: 10 life sentences for crimes against humanity
Oral Federal Court 1 in San Martin on Wednesday sentenced 10 former members of the army, navy, security forces and police forces to life in prison for crimes committed during the 1976-1983 military dictatorship.
The defendants were found guilty of crimes including homicide, kidnapping, torture and rape in a trial known as the "Campo de Mayo mega-trial" – a judicial process that involved several trial and which bears the name of the military base transformed into a clandestine detention. center where the crimes were committed.
The reading of the verdict began with the names of all the victims. In total, judges Daniel Omar Gutiérrez, Silvina Mayorga and Nada Flores Vega handed down 10 life sentences and nine sentences ranging from four to 22 years in prison to 19 former members of the armed forces and security forces.
In their ruling, the judges said the acts "constitute crimes against humanity and are therefore imprescriptible".
Among those who received the maximum sentence was Santiago Omar Riveros, who already holds 16 other life sentences for various crimes against humanity and served as head of the Campo de Mayo military garrison.
Others sentenced to life imprisonment were Luis Sadi Pepa; Eugenio Guañabens Perelló, Luis del Valle Arce, Carlos Javier Tamini, Carlos Eduardo José Somoza, Miguel Ángel Conde, Mario Rubén Domínguez, Francisco Rolando Agostino and Luis Pacífico Britos.
Unanimous verdict
The defendants watched the reading of the court's unanimous decision via video link, while the courtroom was packed with relatives of the victims and members of human rights organizations.
Among the 350 victims of the Campo de Mayo military garrison crimes were 14 pregnant women whose children were stolen and appropriated after birth.
The human rights organization Grandmothers of Plaza de Mayo estimates that during Argentina's dictatorship, around 400 babies were born in captivity and illegally handed over to other people. Only about a third have discovered the identity of their family of origin.
The list of victims included many workers and union representatives from factories located in an industrial zone north of Buenos Aires, including those of the German car manufacturer Mercedes Benz and the American Ford Motor Company.
The trial began in 2019 and was mostly held virtually due to the Covid-19 pandemic.
Initially, there were 22 defendants, but a few died during the proceedings. Most had already been convicted in other trials for crimes against humanity.
Guilty verdicts were entered for crimes such as lawful deprivation of liberty, torture inflicted on victims, premeditated murder and, in some cases, rape and gang rape.
Riveros, 98, was the highest-ranking officer sentenced to life imprisonment on Wednesday, although his sentence will likely be served under house arrest due to his age and medical condition.
Earlier this week, the former general was sentenced to another life sentence, along with three other soldiers, for his role in the so-called 'death robberies', in which drugged inmates were thrown into the ocean and their death from planes.
Crimes against humanity
Since laws granting amnesty for crimes committed under the military dictatorship were overturned in 2006, 278 convictions have been handed down for crimes against humanity across the country, with 1,070 people convicted, many of whom were sentenced to life imprisonment.
The Campo de Mayo "mega-trial" involved 347 victims and 126 hearings. It is considered an emblematic case by many human rights experts due to the size of the clandestine detention center that operated there and the number of detainees.
On the estate, which covers more than four thousand hectares, political prisoners were held in multiple areas. The site also included a secret maternity ward and a military hospital.
Prosecutor Gabriela Sosti said during the trial that more than 6,000 people would have passed through Campo de Mayo and that there was a survival rate of less than 1%.
– TIMES/AFP/TELAM