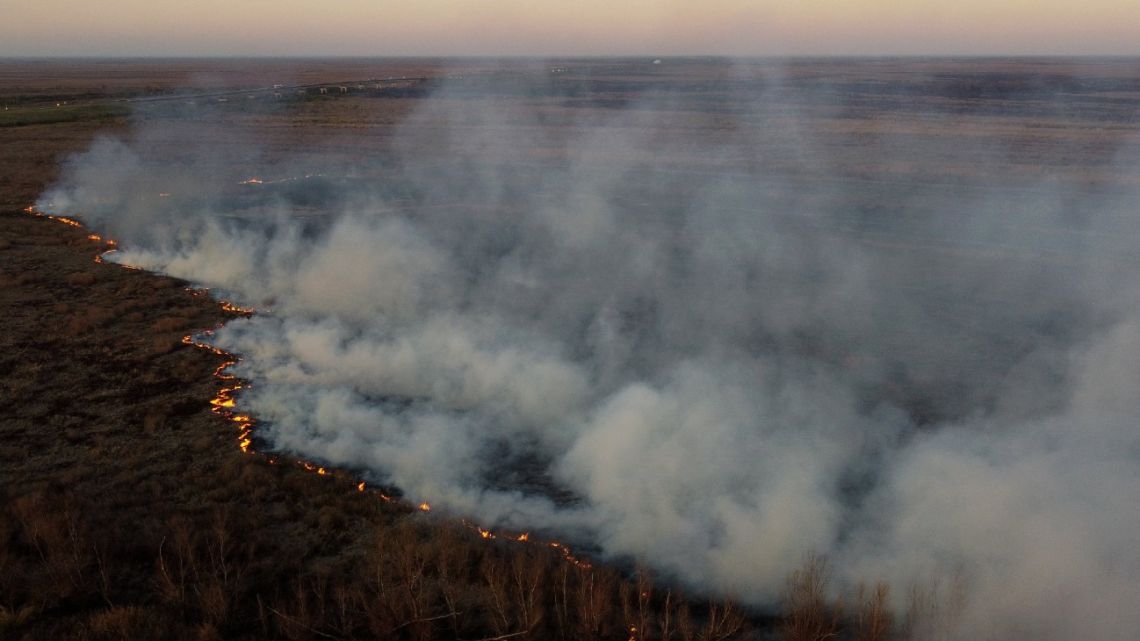 Buenos Aires Weather | Authorities demand action against "criminal" fires in Paraná
Forest fires are devastating the wetlands of the islands in the Paraná River delta, destroying the environment and endangering health due to the thick smoke, local authorities have warned.
"It is inevitable that setting fires in these adverse weather conditions, with a drought that has lasted four years and a sharp drop in the Paraná River, is criminal. Anyone who sets fires in these conditions cannot ignore the context in which they do so. . that," Deputy Environment Minister Sergio Federovisky told Radio 10 on Tuesday.
Setting open fields on fire for future plantings is a common practice in Argentina that is repeated every year, but according to Federovisky, fires are also used to "turn wetlands into future real estate developments".
Meadows on fire can be seen from the roads that cross the provinces of Santa Fe and Entre Ríos, and the smoke of the flames, which settled more than a week ago on the city of Rosario, some 310 kilometers north of the capital, could also be felt. and seen in Buenos Aires on Tuesday.
Three people were arrested on Monday when they were found setting fire to dry vegetation on wetlands near the town of Victoria, in Entre Ríos province, and were handed over to justice, it said. a police source told AFP.
Due to the intense smoke, security officials in the province of Santa Fe decided on Monday evening to stop traffic on the bridge that connects the cities of Rosario and Victoria, in Entre Ríos.
According to the Environmental Observatory of the National University of Rosario, more than 10,000 hectares have been consumed by forest fires on the islands of the Paraná River in the past month.
Federovisky demanded greater speed in justice on Tuesday, saying environmental authorities had given a judge in Victoria "the exact geolocation of the start of each of the fires provided by the heat detection cameras installed in the area by the Department of the environment". ."
They also asked the province for the contact details of the owners of the sites where recurring fires occur in order to denounce them because "there is a deliberate action by the owners of the fields", insisted the official.
A complaint opened two years ago against powerful businessmen for burning grasslands in the region has produced no progress in the justice system.
In Rosario, which has a population of 1.5 million, mass protests have taken place in recent days demanding "an end to intentional burning" and an urgent bill to create a Ley de Humedades ("Law on wet area").
– TIMES/AFP