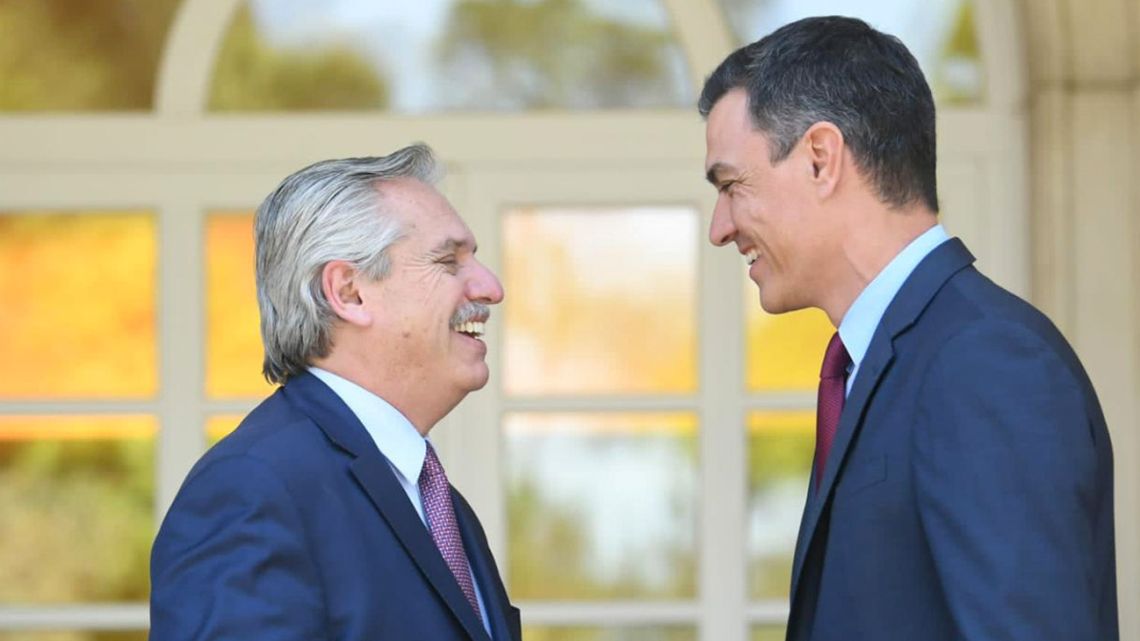 Buenos Aires Weather | Argentina considers Spain as entry point for its gas to Europe
Argentina intends to sell gas to Europe in the coming years and Spain could be its gateway, President Alberto Fernández said on Tuesday after meeting in Madrid with Spanish Prime Minister Pedro Sánchez.
"We can be a stable energy supplier," Fernández wrote on Twitter, after an hour-long meeting with his socialist counterpart in Moncloa.
During the meeting with Sánchez, the two leaders discussed the challenges "posed by the war in the heart of Europe", Foreign Minister Santiago Cafiero said in a social media post, referring to the invasion of Ukraine by Russia.
"President Fernández expressed our country's vocation to be a stable supplier of food and energy in this time of uncertainty," Cafiero added in a video message.
The war in Ukraine has contributed to rising food and energy prices around the world, especially gas, of which Russia is one of the world's leading producers.
In addition, many European countries want to free themselves from dependence on Russian gas for political reasons.
The construction of a massive new gas pipeline from the Vaca Muerta shale formation in Patagonia "will generate Argentina's energy self-sufficiency" and open up possibilities "to become a natural exporter of liquefied natural gas", Cafiero added.
Taking into account that Spain has six liquefied natural gas (LNG) regasification terminals – more than any other European country – the Argentine Foreign Minister raised the possibility of an "agreement between the two countries to be able to move forward in this supply of liquefied natural gas for all of Europe."
For its part, the Spanish government acknowledged, in a statement issued after the meeting, that "Argentina is one of the world's leading food producers, as well as an important energy export potential ( gas, liquefied natural gas and petroleum)".
Argentina's gas production capacities are increasing thanks to the development of the Vaca Muerta formation, but it has not yet achieved self-sufficiency and must import gas from Bolivia (in 2021, up to 12 million cubic meters per day) and LNG.
The Argentine government expects the first stage of construction of the Néstor Kirchner gas pipeline to be completed in 2024.
The Vaca Muerta basin covers 30,000 square kilometers in Patagonia, in the southwest Argentina, and is considered the second largest shale gas reserve in the world and the fourth largest shale oil reserve.
Inflation
Fernández, who was due to meet Spain's King Felipe IV later Tuesday evening, also discussed inflation, Argentina's debt restructuring with the International Monetary Fund (IMF) and the war in Ukraine with Prime Minister Sanchez.
Government officials described the talks as "very cordial" and said the two leaders were concerned about the impact of the war in Ukraine on prices and food security.
Fernández also thanked his counterpart for supporting Argentina's debt restructuring process with the IMF, while Sánchez congratulated his counterpart for successfully concluding the negotiations.
"Spain has been an important player, it has helped to make European countries aware of the need for Argentina to reach a good agreement," Cafiero stressed in comments to journalists at the country's embassy. to Madrid.
In addition, Fernández spoke to Sánchez about the economic situation in Argentina and affirmed that the country "is developing" and "there are good prospects for this year as the world expects a recession". said the Minister of Foreign Affairs.
– TIMES/AFP/NA