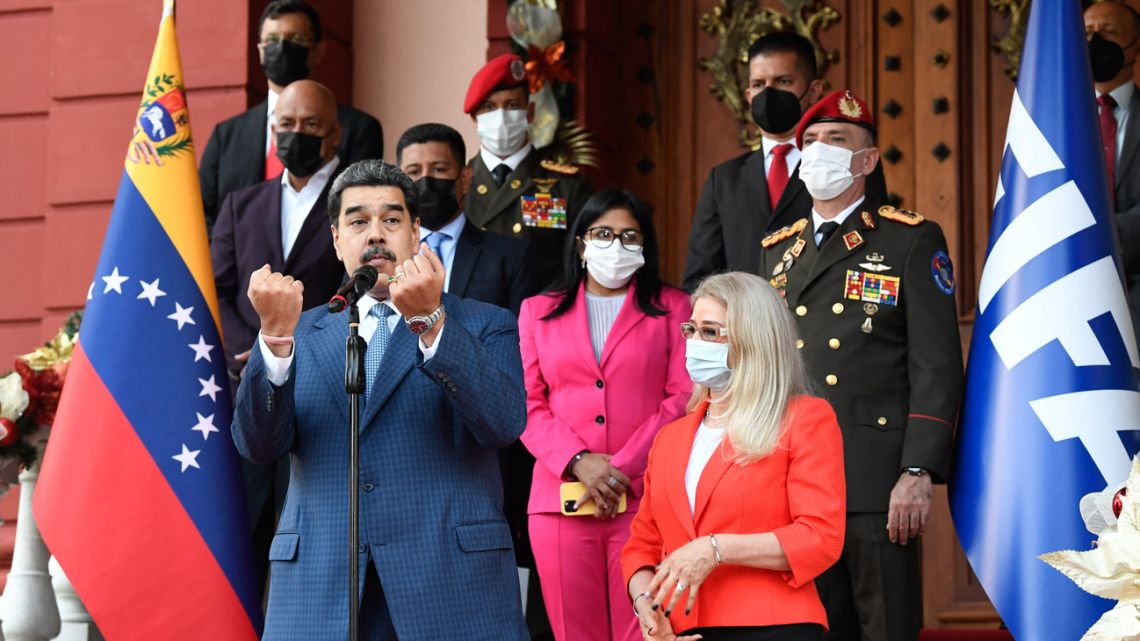 Buenos Aires Hours | Maduro: Venezuela and Colombia must "normalize" their relations
Venezuelan President Nicolás Maduro on Wednesday called for the normalization of trade and diplomatic relations with Colombia, which have been non-existent since 2019, when the government refused to recognize him as the leader of Venezuela.
"Colombia and Venezuela must solve our problems in peace, we must (…) normalize trade, productive and economic relations," Maduro said in a speech on state television. "We have to normalize consular relations, diplomatic relations."
The leftist leader welcomed a proposal approved Tuesday by the Colombian Senate to create a federal commission between the two countries to work on the normalization of trade and diplomatic relations.
But Maduro also said Colombians in Venezuela do not have consular assistance because the government of President Iván Duque "does not give them consular access."
Duque, however, said he would not recognize Maduro's government.
"As long as I am the president of Colombia (…) we will not recognize him," he said at a joint press conference with US Secretary of State Antony Blinken.
"To recognize this would be to renounce the values ​​that our country has historically defended. It would be a capitulation in the face of the misery that a whole people had to live because of the disgrace" of Maduro's government, he declared.
Nearly two million Venezuelans have emigrated to Colombia in recent years, fleeing a serious economic crisis in their country of origin.
Caracas had unilaterally closed its land borders with Colombia in February 2019 amid a power struggle between Maduro and opposition leader Juan Guaidó, who claims to be his country's interim leader.
Guaidó has received support from around 60 countries, including the European Union, the United States and Colombia.
The Venezuelan government had also severed diplomatic relations with Colombia due to the recognition of Guaidó by Bogotá.
The neighbors share a border of approximately 2,200 kilometers (1,370 miles).
Bogotá has repeatedly accused the Venezuelan government of harboring FARC and ELN guerrilla fighters, a claim denied by Caracas.
Maduro, for his part, points the finger at Duque for alleged coup plots and assassination in his country.
But Venezuela announced on October 4 that it would reopen the borders between the two countries.
In the midst of what he called a "page turn," Maduro urged Colombian businessmen to resume investment in his country, which is plunged into its worst economic and social crisis in recent history, with hyperinflation and seven consecutive years of recession.
Capriles detonates 'deadly' opposition division
Former Venezuelan presidential candidate Henrique Capriles on Wednesday called on the opposition to end their "deadly" divisions and unite against the government in regional elections next month.
After boycotting the last three national elections, the opposition decided to run for mayors and governors on November 21.
"We have to unite the opposition vote (…) the dispersion of the vote is deadly. We cannot but unify our forces," said Capriles, who lost the 2012 elections to the president of the time, Hugo Chávez.
A year later, after Chávez's death, he was again narrowly beaten by Maduro.
Capriles has urged opposition candidates to step down if another figure opposed to the government gets ahead of them in opinion polls.
"If you know who's first and who's second, what more does the second need to support the first?" Is his ego more important? Said the 49-year-old. "The second must support the first. "
The former governor of Miranda referred to the 2015 legislative elections where a united opposition managed to secure a majority in the legislative elections.
He asked, "Haven't we learned anything in 22 years" from the current populist government's grip on power? In 2015 we were in the millions and we won. "
Despite the decision to contest the elections, the fractured opposition failed to agree on unified candidates.
Without them, candidates aligned with Maduro's United Socialist Party "will win," Capriles said.
– TIME / AFP