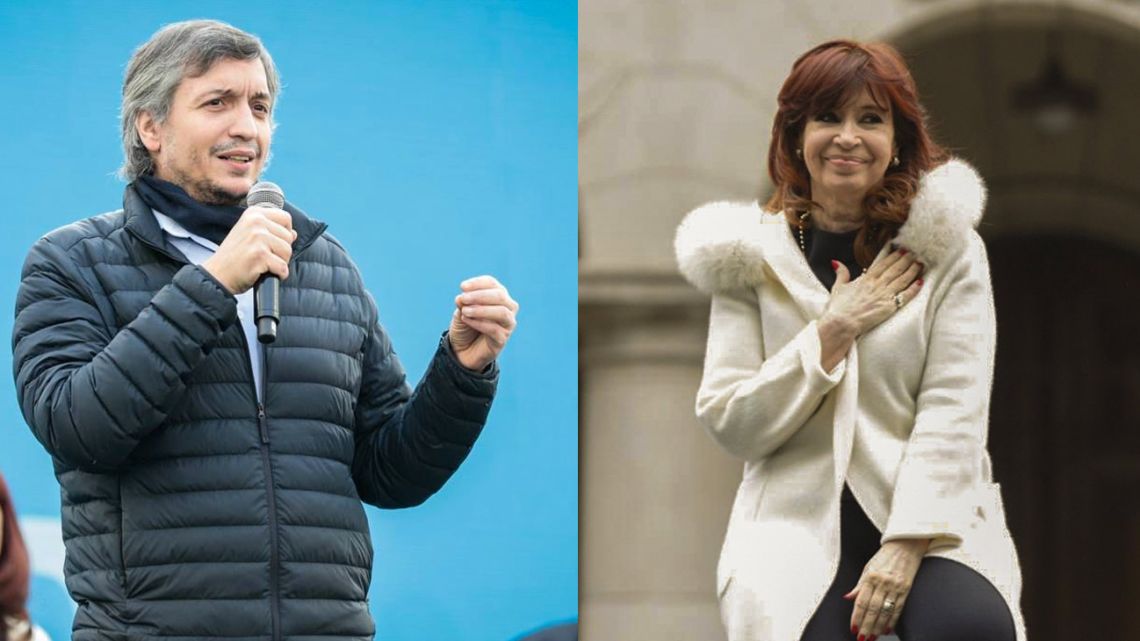 Buenos Aires Hours | Cristina Fernández de Kirchner declares wealth of 16.4 million pesos
Vice-President Cristina Fernández de Kirchner presented an affidavit to the Anti-Corruption Office (OA) declaring a total fortune of 16,463,095 pesos, mainly composed of the inheritance received from her late husband and presidential predecessor Néstor Kirchner .
But the lion's share of the family fortune was declared by his son Máximo, who heads both the Frente de Todos caucus in Congress and the militant group La Cámpora – some 400 million pesos last year, an increase of 37% compared to 2019 (approximately the last annual inflation rate), thus giving rise to the right to wealth tax, the floor of which is half of this value.
The heir of the family declared the same amount of 2,848,072 USD in two term deposit accounts as in previous years, but the value in pesos increased by about 69 million to 239,095,683 pesos. The inheritance left by his father and donated by his mother also included 27 properties.
Fernández de Kirchner's statement (actually presented last Saturday but posted on the OA website on Monday) reveals a 69% increase from the 9,761,186 pesos reported last year. After accounting for inflation, the real increase was 24.2 percent.
Most of the assets consisted of "property rights in this country" (i.e. property transferred to a third party other than the owner) from the inheritance of ex-President Néstor Kirchner – a total of 12 131,852 pesos.
The property of the ex-president, who died in 2010, was divided in half for his widow and the other half for his two children, Máximo and Florencia.
The Vice President also declared 441,335 pesos of personal effects, not counting any vehicles since she always uses cars from the Senate fleet.
Fernández de Kirchner also reported 3,679,029 pesos in cash deposited in two savings accounts at the end of 2020 and salary arrears totaling 210,879 pesos.
The former president, who ruled Argentina from 2007 to 2015, has not declared any ownership or shares in the company since all of these assets were given to her children in 2016 before legal proceedings against her, some of which involving the hotel agencies of the Hotesur Patagonian family.
Family businesses are currently under trusteeship in money laundering investigations which have led to the vice president now awaiting trial.
Since 2010, Fernández de Kirchner received the pension corresponding to a presidential widow and since 2015 that of a former president. However, following the change of government, the Department of Social Development told her to choose between one or the other and when she refused, they eventually suspended the widow's pension, which the ex-president said. appealed to court. At the end of 2019, when she became vice-president, the courts upheld her appeal and overturned the suspension of her right to receive both pensions.
Other details of Máximo Kirchner's statement include shares in family hotels in the amount of 10,151,867 pesos to Hotesur SA and 6,667,337 pesos to Los Sauces SA, as well as 1,148,511 pesos owed by the latter. His net worth in national currency is 12,838,079 and he also owns two vehicles valued at 1,237,500 pesos.
Young Kirchner reported his personal expenses last year at 1,299,007 pesos, a monthly average of 108,300 pesos.
– SCHEDULES / NA