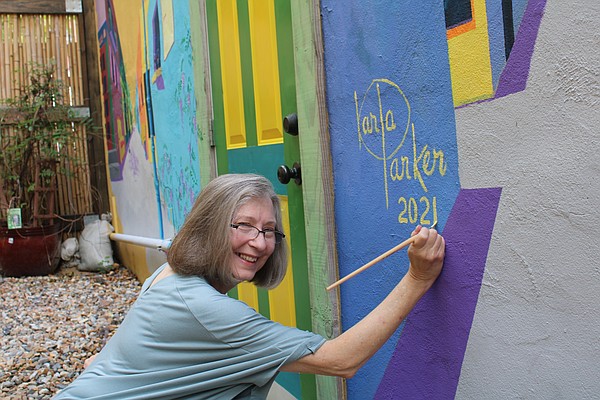 Bar owner's trip to Argentina inspires artist's latest work
Local artist and author Karla Parker signed her new mural on the back patio wall of the Argentinian Coffee & Wine Bar on Wednesday, a work based on places owner Amy Esner has seen on her travels in Argentina. , the country of origin of her husband.
"It's inspired by La Boca, Argentina," said Esner, which is a neighborhood in Buenos Aires, the capital.
"So that's where all the immigrants migrated to the country originally. It was the start of the whole country," she said. "When I was traveling, we went here and I watched them tango, and I love the bright colors."
Esner said she hoped coming to the patio would make you "feel like you're stepping out of Hot Springs, kind of like a way to get out of town for a while."
Parker said she painted other murals for Esner before this one, including one at the former Thai-Me location on Highway 7 south.
https://www.youtube.com/watch?v=/VAx0rcN_oR0
Video not playing? Click here https://www.youtube.com/embed/VAx0rcN_oR0
"We've known each other for a while. We worked together. I was a massage therapist for a while, until my arthritis got too severe. She had seen some of my artwork. 'works of art, she called me, "she said.
In addition to working with Esner, Parker said she painted many other murals in and around the spa town. Her first was at Lanny's Cycle World Kawasaki dealership on Lacey Street in the early 1980s. She noted that she had painted glossy, slightly abstract Kawasaki products on each of the many cemented windows.
Parker described the second mural she painted as her "first big project," which can be seen at Tower Motel, the Short-Dodson House on Park Avenue, a historic two-and-a-half-story house.
"I did a 6 by 10 (feet) painting of Moses on top of Sinai. It's on the second floor landing," she said.
Parker also painted a mural on a ceiling in a dining room at Windsong Farms in Bonnerdale of Cherubs with roses and vines, painted to coordinate with a Michelangelo print in an adjacent room.
Its largest mural is that of the Spanish explorer Hernando DeSoto.
"That one was 20 feet by 60 feet from DeSoto in the Valley of Vapors," she said. "It showed Hot Springs Creek with the downtown mountains in the background. On the left bank was part of a Native American village, with people cooking fish. In the middle, DeSoto spoke to the Chief, and to the right, on the opposite bank, part of DeSoto's entourage was waiting with the horses. "
She said the Argentinian mural took her six months, due to unexpected weather conditions, and would be her last major mural.
Parker also paints sets for the Pocket Community Theater, including his recent production of "Murder on the Orient Express", which ended last Sunday. She created a winter scene that spectators could see through the train windows.
Parker is also an author. His latest series is about a detective named Scootch, which is set in the 1940s Hot Springs. Scootch McCulley gets his "private investigator's license to help his uncle in his law firm … like taking pictures of cheating spouses in hotels, that sort of thing. And the real case falls on his knees," Parker said. .
His books can be purchased online at http://www.amazon.com/author/karlaparker.
Argentinian cafe and wine bar owner Amy Esner says she was inspired for her business mural by her trip to Argentina. – Photo by JP Ford of The Sentinel-Record
Argentinian cafe and wine bar owner Amy Esner, left, shakes hands with mural artist Karla Parker. – Photo by JP Ford of The Sentinel-Record