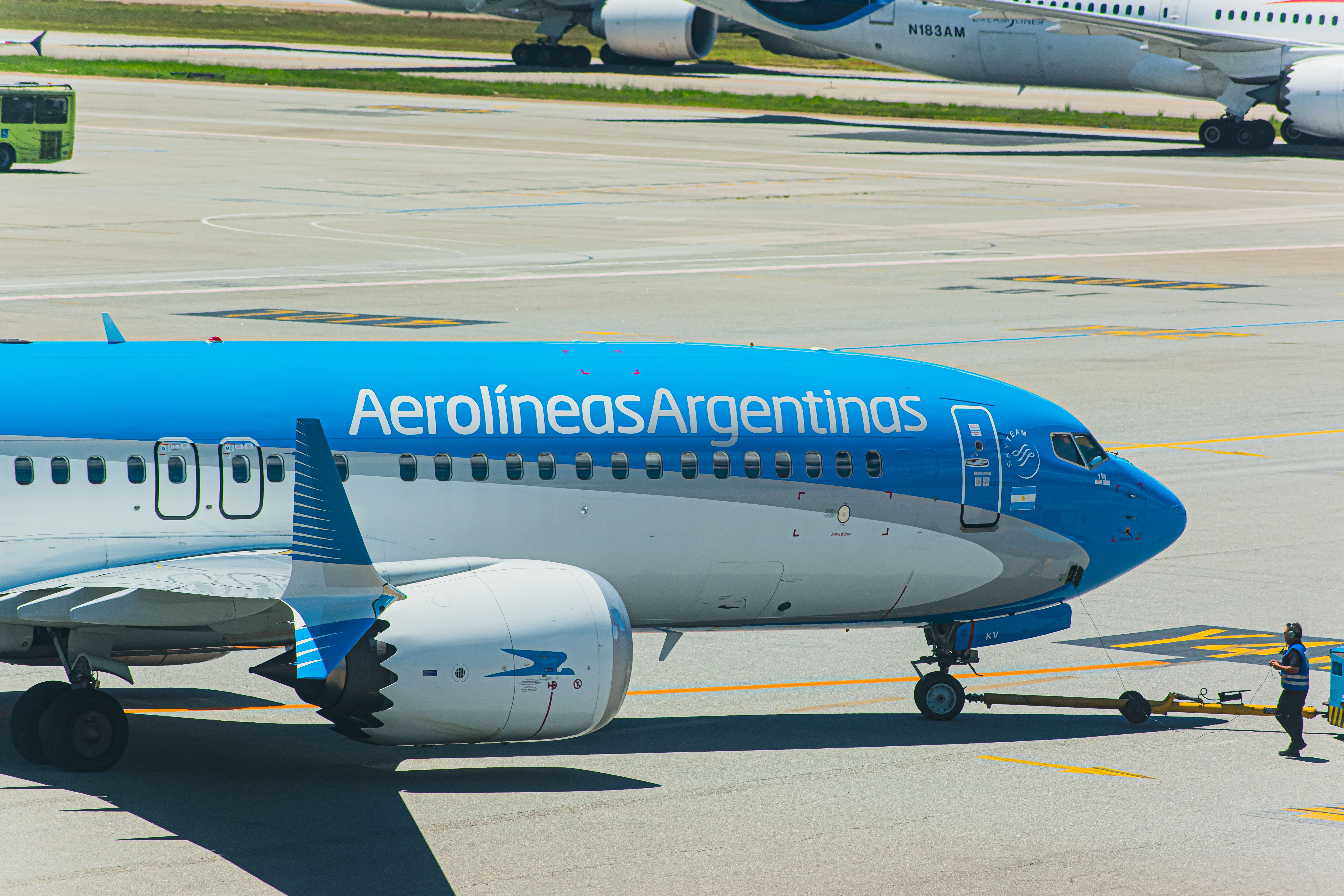 Aerolíneas Argentinas Boeing 737 makes emergency landing after bomb threat
On Saturday, an Aerolíneas Argentinas flight from Buenos Aires to Ushuaia was diverted to Comodoro Rivadavia due to a bomb threat. The flight landed safely and after a thorough search no explosives were found. The aircraft returned to Buenos Aires while the passengers continued their journey to Ushuaia in a replacement aircraft.
It all started with a call to 911 from La Plata
Aerolíneas Argentinas (Aerolíneas) Flight AR1882 took off from Buenos Aires Aeroparque (AEP) at 4:46 a.m. for the 3:30 a.m. flight south to Ushuaia Malvinas Argentinas International Airport (USH). The aircraft in operation was a four-year-old Boeing B737 MAX 8, registration LV-HKV, carrying 169 passengers and six crew. According to Argentinian Clarín, the bomb threat came from a 911 call made from La Plata, about 30 miles (52 km) from Buenos Aires. The flight was diverted to Comodoro Rivadavia International Airport (CRD) in Chubut province, and after landing at 07:40, the aircraft was directed to a remote section of the airfield. He was greeted by airport firefighters, airport security police (PSA), explosives personnel and the National Civil Aviation Administration (ANAC).
Aerolineas Argentinas flight AR1882 was diverted to Comodoro while en route to Ushuaia from Buenos Aires yesterday. Data: Flightradar24.com
An emergency protocol was activated, including the closure of the airport and the summoning of the Chubut Provincial Police Explosives Squad and emergency services. In a statement, the PSA said: "The PSA operating unit of Comodoro Rivadavia received the alert through a communication from the control tower anticipating the arrival of the Aerolíneas Argentinas flight, and the emergency operating committee was quickly formed."
"All crew and passengers have been disembarked and guided to the airport arrivals hall. Explosives Squad personnel have proceeded to the aircraft and are examining the baggage, cabin and aircraft cargo bay, in an exhaustive search for a possible explosive device, which so far has produced no news."
Aerolíneas Argentinas has a fleet of 43 Boeing B737 family aircraft. Photo: Getty Images.
A difficult period for the 175 on board
According to Clarin, one passenger said: "They told us we were landing because of a situation, and when we had to get off there they told us it was because of a bomb threat. ." Another added:
"We arrived at the track and after 15 minutes they told us that there was a bomb threat. They made us wait half an hour without information and we walked three kilometers in lower temperatures zero to the airport we have no company secret we got off at 7:30am and it's been almost three hours.
Passengers spent about nine hours on the ground at Comodoro, finally departing at 4:25 p.m. on a replacement plane. The flight, on a Boeing B737-800 registered LV-GUB, arrived in Ushuaia at 5:57 p.m., well after the scheduled arrival time of 8:05 a.m. for flight AR1882. The original B737 MAX 8 departed Comodorro at 12:49 p.m. and returned to Buenos Aires at 2:44 p.m. Aerolíneas has a fleet of six Boeing B737 MAX 8, 29 B737-800 and eight B737-700.
In December 2018, an Aerolíneas plane received a bomb threat as it prepared to leave Cordoba, central Argentina. Following the threat, the aircraft was immediately evacuated and checked by airport security police. The search found no traces of explosives and, after a delay of about two hours, the flight departed for the provincial capital of San Salvador de Jujuy. As the threat was received before takeoff, the police were able to alert the control tower, which ordered the pilot to remain on the ground while safety protocols were enacted.
Source: Clarine