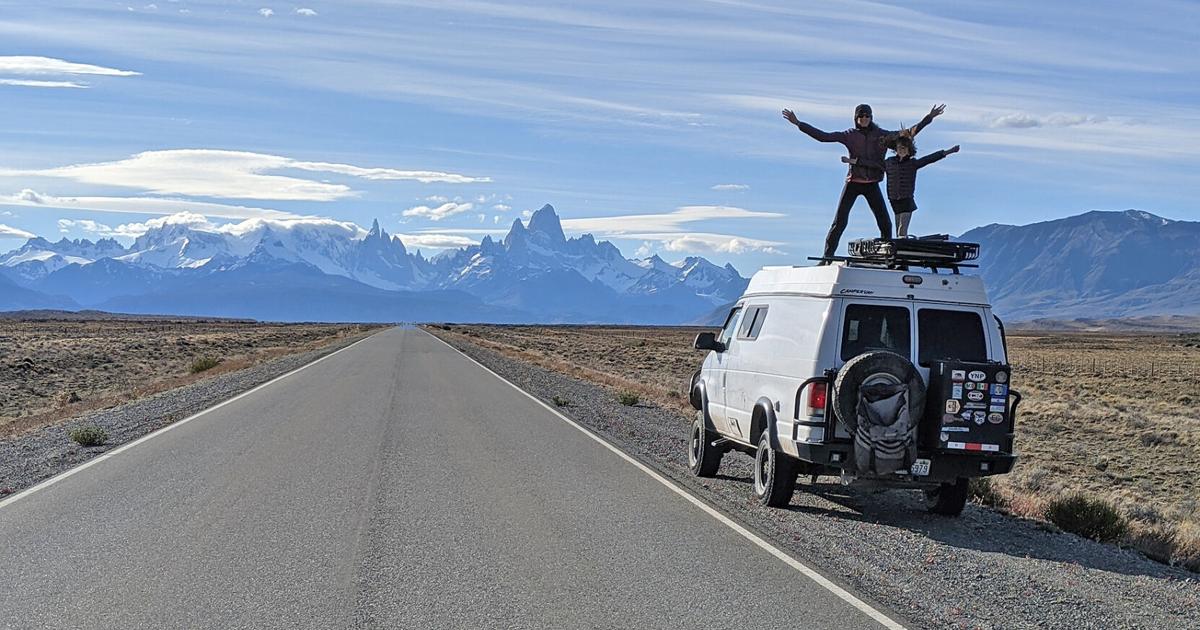 A family travels from Tuolumne County to Argentina in a van | News
She was a rock climber and carried a pager and walkie-talkie for Yosemite Search-and-Rescue. He was a climber who worked for a tree crew in the national park.
The couple met and married in Tuolumne Meadows and then began building their dream home on Sawmill Mountain Road months before the Rim Fire erupted in 2013. They eventually grew weary of their day jobs in the Bay Area, pulled their 6-year-old daughter out of kindergarten and embarked on a daring road trip from Tuolumne County to Argentina that began in September 2017.
Their journey covered over 29,000 miles in three and a half years. They traveled through an 8.2 magnitude earthquake, dodged hurricanes and faced angry mobs in Mexico. They drove along the roadless Darien Gap jungle between Panama and Columbia. They mixed with Venezuelan refugees on the Colombian border and led to a Bolivian revolution. And they faced explosive battery failures and a dead engine between Ecuador and Peru, as well as months of COVID-19 lockdown in Argentina.
Mary Hollendoner and her husband, John Stanfield, and their daughter, Lillian, left their spot on Sawmill Mountain Road on September 23, 2017, turned east on Highway 120 and took Tioga Road to connect with the US Route 395 before turning south to embrace their adventure and the unknown.
They were in their 1999 Ford E350, an eight-cylinder V8 with automatic transmission. They called their vehicle Vancito, and she still calls it a "vay ocho," as she described it to so many people in Central and South America who had never seen a vehicle that big.
The best food snacks they found were in the tropics of Mexico and Ecuador, where they would stop and find tables of amazing fresh fruit for sale, including avocados, mangoes or papayas.
The best street food they found was in Oaxaca, where many options included "tlayudas, like pocket pizzas, tamales and tacos," Hollendoner said. "All these people are cooking at home and walking down the street, setting up tables and selling the food. In Oaxaca, the street food culture is so delicious and homemade."
Asked about the tensest moments of their travels, Hollendoner said, "There was a roadblock southeast of Oaxaca. There were always crowds of people at every roadblock, people trying to sell things. John assumed it was the same at this one, and he tried to cross without stopping. But people got angry and stood in front of the van. John stopped and they asked for money.
Her husband asked why? The toll booth was in front, that's where they had to pay. Then people started shoving, pushing and shaking the van.
"We could see some were younger men with beer bottles," Hollendoner said. "Then two of them picked up stones and started banging them together and staring at John. I opened my window and spoke to an older man in fluent Spanish. He said their houses had been destroyed in a recent earthquake and they were trying to raise money to rebuild their homes. Then the police came, sirens blaring, and waved us through. There was no one at the toll. It was strange."
Later that day, they pulled Vancito near a lake to camp and a family there was selling chicharrones, homemade pork rinds. Chicharrone vendors packed their bags to leave, then stayed and chatted with Tuolumne County travelers for hours and invited them to spend the night at their homes.
"They showed us a crack in the wall from the most recent earthquake," Hollendoner said. "Some of them slept outside and in doorways because they were afraid of another terremoto coming. The next day they prepared a big lunch for us. There they were, their house s collapsing and selling chicharrones for a living, and they were hosting us and they were so generous.
Another big scare came when she, her husband and their daughter were on a sailboat between Panama and Colombia. The van was on a larger freighter en route to Colombia.
"John and I got seasick," Hollendoner said. "It was dark and the boat was rocking back and forth and there were very low, thigh-high guardrails on the deck. We were afraid that Lillian might fall overboard because we were so sick. We desperately vomited sideways and couldn't keep an eye on her.
They survived these and many other scrapes, often with the help of more generous strangers.
Asked about the challenges of living in a van on the road for months, Hollendoner said: "Constantly having to find places to buy food, get water and do laundry. Every day, every week, we were in a different city, a different country, and it was totally different because you were traveling from place to place. It's a challenge in an interesting way.
Despite the thousands of miles they racked up, coping with the endless boredom of the road trip was no big deal.
"We were driving two hours a day and stopping for a few days," Hollendoner said in a phone interview Thursday. "We drove less on average per day than our friends in the Bay Area who commute to work every day. Sometimes we homeschooled while driving. For Lillian, she did a lot of reading. Sometimes we played I Spy.
The main thing that Hollendoner wanted to emphasize is the friendliness of the foreigners they met throughout their travels, especially in Colombia. The second time Vancito's battery exploded, they were at a propane gas station and the owner, instead of telling them to leave in a hurry, invited them to his home and served visitors fresh homemade coffee at from grains grown on his property. He also offered to store their van and help them fix it.
"Time and time again, people would stop to greet us and ask if they could help navigate us," Hollendoner said. "People were very curious and friendly, in all countries. We had so many people helping us and sharing their kindness with us.
She and her family and Vancito eventually traveled to Patagonia, Argentina, in January 2021. They returned home to Tuolumne County in March of last year and enrolled Lillian at Tenaya Elementary in Groveland.
They have since moved to Salt Lake City, to be located more centrally in a community with decent job prospects and schools. They haven't sold their house and property on Sawmill Mountain Road, which they consider their "forever home, where we hope to retire," Hollendoner said. They left Tuolumne County in July.
Hollendoner has blogged about her family's adventures and she self-published a book, "Monkeys on the Road," a month ago. The book has gained traction with some readers, and she says it was recently Amazon's No. 1 bestseller in family travel and adventure travel. Thursday this week was Amazon Ecuador and Galapagos Islands Travel's #1 bestseller.